China media: Pollution woes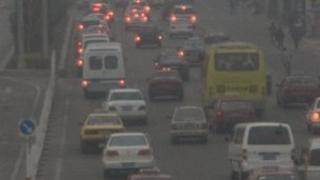 Newspapers voice more concern over the heavy smog which has hit several cities in China's north-east, disrupting motorway traffic and airports.
Global Times says the country's rapid development is "sounding a shrill alarm again" on pollution and backs public calls for a fireworks ban during the Chinese New Year next month.
China Central Television features the following locations around Beijing completely masked in thick smog: Tiananmen Square, Forbidden City, Great Wall, Temple of Heaven, Summer Palace and Zhongguancun district.
"It is necessary to introduce a 'Clean Air Act' on a national level to clarify the responsibilities of the national government at all levels, companies and the individual in air pollution control," urges The Beijing News.
Thousands of Beijing residents have had enough and are calling for a Clean Air Act in an online vote on Sina Weibo, Xinhua News Agency reports.
Staying with news on the internet, several online users have launched a petition to ban programmers of China's "Great Firewall" from entering the US, according to Hong Kong's South China Morning Post.
Turning to politics, Communist Party chief Xi Jinping says countries must not assume that China will "sacrifice core national interests" in territorial disputes, The People's Daily reports.
"Do not expect us to swallow the bitter fruit of harming China's sovereignty, security and development interests," Mr Xi said on China Central Television.
Mr Xi's statement comes amid growing concerns among neighbours about China's increasing defence budget.
Liberation Army Daily says Mr Xi also made his first inspection of the People's Armed Police since taking command of the military in November.
A state-run think-tank expert warns in the People's Daily Overseas Edition that the US is building a "united front" against China in the Asia-Pacific by stirring up territorial disputes and boosting military alliances and deployments.
"We obviously cannot allow this to happen and must achieve a real strategic balance in the Asia-Pacific... China has no reason to fight a lone battle and should give full play to the strategic role of Russia and North Korea," Ren Weidong of the China Institute of Contemporary International Relations commented in the newspaper.
On Japan, China Daily says Beijing is dismayed at Tokyo's plan to amend previous official statements about its wartime history, including a landmark 1995 apology for Japan's aggression during World War II.
'No credibility'
Coming back to China, in an interview with The Beijing News, whistle-blowing journalist Zhu Ruifeng calls for a thorough investigation into a Chongqing sex video scandal and says more officials allegedly appearing in the secretly filmed videos have not been punished.
A bilingual Global Times editorial blasts Mr Zhu for refusing to hand over the sex tapes to police from Chongqing and warns that a "lack of government credibility" is affecting "the handling of nearly every controversial issue in China".
China Youth Daily, however, calls the police's surprise visit to Mr Zhu's home an "intimidating approach that will disgust people easily".
Elsewhere, a real estate tycoon from Hunan reveals to Nanfang Daily that he bribed more than 300 deputies in a failed attempt to get a seat in the provincial congress.
Former Premier Li Peng's son has been appointed Shanxi governor despite coming under fire for his handling of disaster cover-ups as acting governor, Hong Kong's Ta Kung Pao reports.
Also in Shanxi, The Beijing News questions how a county official who was sacked two months ago for disciplinary violations has been reinstated as an environmental bureau deputy chief.
Suspects go on trial today for ransacking a government office and allegedly forcing the city's mayor to wear a T-shirt with anti-pollution slogans during a mass protest against an industrial sewage pipeline project in the eastern city of Qidong last July, Global Times reports.
The People's Daily says new caps will be enforced on levels of heavy metal contaminants in certain foods from June.
China Business News yesterday reported severe soil contamination of up to 12m tonnes of grain a year, causing annual losses of over 20bn yuan.
In Hong Kong, the government is considering making infant milk powder a "reserved commodity" to combat inflation and shortages caused by parallel trading, South China Morning Post reports
BBC Monitoring reports and analyses news from TV, radio, web and print media around the world. For more reports from BBC Monitoring, click here. You can follow BBC Monitoring on Twitter and Facebook.