'Angry' China worker admits deadly Shantou arson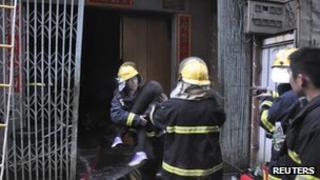 A former garments factory worker in China has told state media that he set his former workplace on fire because he was angry about not being paid wages owed to him for three years.
The fire in Shantou city in Guangdong province killed at least 14 people, officials say.
Speaking from jail, Liu Shuangyun said that he was still owed less than $80.
Xinhua news agency has reported that he has been arrested, but it did not specify what charges he is facing.
Officials said that all the victims in the blaze on Tuesday were women.
Asked whether he regretted the loss of life the fire had caused, Liu told the Guangdong TV broadcaster: "I didn't think about these things."
Correspondents say that the case underscores the subsistence existence of many young Chinese migrant workers and raises questions about basic fire safety at the innumerable small factories that produce clothes, toys and other goods that have helped propel China's soaring economic growth.
Xinhua said that Liu - a 26-year-old migrant worker from Hunan province - spent 40 yuan ($6) on petrol used to start the fire and fled the scene after his alleged crime.
"The whole time, I've been very impulsive, very angry about this," Liu said during the television interview. "So I did these things."
The suspect was seen in the TV pictures sitting on a chair with his hands in handcuffs. Chinese media said that he was only "given excuses" by his former boss as to why he had not received the back wages.
A photo of the incident on Guangdong TV report showed the front of the four-storey building in the south of the province as being completely blackened.
Campaigners say that many such factories are unpleasant places to work and do not have adequate health and safety procedures in place. Building fires are common in China because of lax safety standards and unsafe construction work.
Unpaid salaries are a major source of worker discontent, campaigners say.
A fire in April 2011 at an unlicensed garment factory in Beijing killed 18 people.