China morning round-up: London Olympics close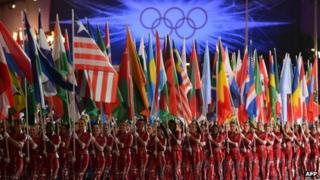 Newspapers emphasise China's performance as the London Olympic Games came to a close on Sunday night.
China finished with 38 gold, 27 silver and 22 bronze medals, putting it second on the medal table behind the US.
People's Daily Overseas Edition praised the Chinese delegation's "splendid" performance. The domestic edition publishes a joint telegram from the Chinese Communist Party Central Committee and the Chinese cabinet congratulating the athletes.
China Daily says the London Games "marked major breakthroughs for China in many less-developed events", such as speed walking, sailing and fencing.
But national newspapers also continued to complain of "unfairness" at the London Games.
People's Daily says 18-year-old British diver Tom Daley won his bronze medal "disgracefully", after he was granted a re-dive after complaining he was distracted by camera flashes.
A commentary says the London Games were "troubled" by integrity problems among participants. It appeals for "better supervision" over how individual federations exercise "fair refereeing".
A People's Daily editorial says Chinese athletes dealt calmly with "deliberate acts to make things difficult" for them. People's Daily only publishes editorials on events deemed extremely important by Beijing.
The Global Times' bilingual editorial says: "Domestic media also indulged in too much self-reflection under certain circumstances, for example, discouraging the pursuit of gold medals and roundly condemning the badminton players who threw their match."
Others have a different take.
China Youth Daily reports Chinese Sport Minister Liu Peng said the delegation's failure in basketball, women's volleyball and water polo were signs China needed to improve training in these areas.
Sichuan's West China City Daily says national debate on the importance of winning gold and the public's praise of "medal-less heroes" are a remarkable change compared to the "blind worship" of gold medals in the past.
An editorial in Guangzhou's Southern Metropolis Daily says the most striking change in China during this Olympics was the dominance of social media in shaping public opinion.
Meanwhile, as Shanghai Morning Post says the city's injured hurdler Liu Xiang deserves a message of thanks from the public, a commentary in Hong Kong's Ming Pao Daily News appeals to netizens to hold back criticism in appreciation of the immense pressure China put on him.
In other news, the Global Times and Ming Pao Daily News report a group of activists set sail from Hong Kong on Sunday for the disputed Senkaku Islands, known in China as the Diaoyu Islands and in Taiwan as Diaoyutai Islands.
The activists will meet up with Taiwanese counterparts to protest against Japan's claim over the islands, said the reports.
China Daily and Shanghai Daily report a nationwide hunt is underway for a serial killer.
The 42-year-old suspect killed nine people over the past eight years in Chongqing, Nanjing and Changsha, police said.
Also on Monday, China Daily and Ming Pao Daily News say an archway collapsed at a busy tourist spot in eastern Hangzhou city, killing two people.
Initial investigation suggested serious decay of the wooden pillars could have caused the six-metre-tall arch to fall, said the reports.