China morning round-up: Olympic badminton row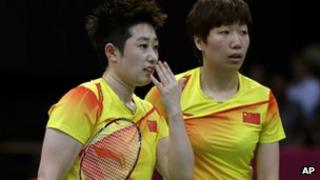 Newspapers discuss the Olympic badminton row after eight players - including China's Wang Xiaoli and Yu Yang - were disqualified from the women's doubles competition.
The Badminton World Federation (BWF) disqualified the players for trying to lose in an apparent bid to secure an easier passage to the medal stages.
In regional newspapers such as Shanghai Daily it is the top story. Shanghai Morning Post described the punishment in a headline as "swallowing their own bitter fruit".
The reports, however, also say teams blamed the BWF's introduction of a round-robin stage rather than a knock-out tournament as the cause of the problem.
People's Daily Overseas Edition describes the punishment as "unprecedented", while its domestic edition says the event was "a crash of rules with ethics". It said the BWF should not punish players because of the federation's own problems.
Beijing News' editorial says the "utilitarian" and "shameful" act cheated the spectators. It also reminds athletes that on top of winning medals comes sportsmanship.
But a Global Times Chinese editorial asks people not to take the whole affair too seriously, because "all in all, the Olympic Games is a big party, everything to do with the Games should remain in the 'entertainment sport' level".
Meanwhile, Shanghai Daily and others celebrate the second gold medal won by women's swimming talent Ye Shiwen late on Tuesday, while papers including Guangzhou's Southern Metropolis Daily congratulate resident Lei Sheng for winning China's first-ever fencing Olympic gold.
Also on Thursday, China Daily and People's Daily report Premier Wen Jiabao has urged officials to prepare for a double typhoon with typhoons Saola and Damrey poised to hit eastern China.
Mr Wen said the forecasted movement of Typhoon Damrey has many similarities to that of Typhoon Nina in August 1975, which caused a series of dam collapses in Henan province, Shanghai Morning Post reports.
China Daily and the Global Times also report Beijing's protest over Washington's decision to place sanctions on the Bank of Kunlun - an affiliate of the China National Petroleum Corporation - for its ties with Iran.
China's foreign ministry urged the US to revoke the sanctions, said the reports.
The massive power cut in India provided China with a lesson to learn, a Global Times bilingual editorial says.
"As power consumption further rises, society has to develop a consensus on developing nuclear power, hydropower and clean energy," it said.