China morning round-up: South China Sea city opens door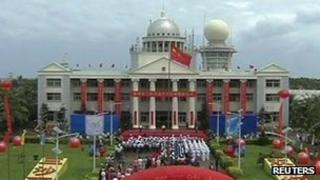 Newspapers report the inauguration of the local government in Sansha City , set up recently by Beijing to govern disputed South China Sea islands.
The new government held a ceremony on Yongxing Island in the Paracels - known as Woody Island in English - where the mayoral office sits.
Chinese Vice-Minister of Civil Affairs Sun Shaochi read out Beijing's order approving the establishment of the city, People's Daily and China Daily report.
Beijing News quotes various officials as saying that Sansha City's formation gave China the initiative in the "South China Sea struggle".
But most papers only carry reports from the official Xinhua news agency. Hong Kong's Ming Pao Daily News says China's propaganda authorities have issued an order to mainland Chinese newspapers asking them to do so.
Vietnam and the Philippines both protested against China's move. On Monday, Philippine President Benigno Aquino said in his state of the union address that Manila had shown restraint during the Scarborough Shoal stand-off - another disputed area in the South China Sea.
A People's Daily commentary on Wednesday described Mr Aquino's remark as "ridiculous", saying China was the one showing restraint. The front-page commentary in its Overseas Edition further warns Manila "not to make further mistakes".
Back in mainland China, Beijing is continuing with its clean-up after deadly floods on 21 July , China Daily reports.
Beijing News and Beijing Times say the city's southern Fangshan district was hit worst, with over 66,000 houses damaged or collapsed. Officials were still working on casualty figures, said the reports.
Beijing Times says the capital was expecting a fresh downpour on Wednesday evening, as Shanghai Daily - citing Xinhua - says Beijing citizens were sharing self-made maps marking Beijing's flood-prone areas on the internet.
Down south, People's Daily and Guangzhou's Southern Metropolis Daily report Typhoon Vicente brought further chaos to Guangdong province after it made a landfall, leaving at least three people dead and six missing as of Tuesday evening.
The powerful storm passed very close to Hong Kong and Macau. Ming Pao Daily News and Macau Daily Times reveal more details of devastation in the two neighbouring cities.
Meanwhile, People's Daily says the Chinese Finance Ministry issued a notice to local authorities warning no emergency relief funds should be embezzled.
Also on Wednesday, papers including China Daily and Beijing News report the return of 26 Chinese crew members from a Taiwanese trawler last week after it was freed by Somali pirates.
China Daily and Shanghai Daily say the State Council is sending officials to 16 municipalities and provinces "to inspect the implementation of property policies as local authorities come up with various ways to relax property curbs".
All four municipalities - Shanghai, Beijing, Tianjin and Chongqing - are on the checklist, as well as major economic powerhouse such as Zhejiang, Fujian and Guangdong provinces, reports said.
Shanghai's China Business News suggests the cabinet is dispatching the inspecting teams with great urgency as it sees the property market "running out of control".
And with two more days to go before the London Olympics open, People's Daily Overseas Edition publishes a spectators' guide focusing on Chinese athletes, while Southern Metropolis Daily looks at the "enormous sports culture" that Britain has in store.