Chinese peach theft sees science 'set back a year'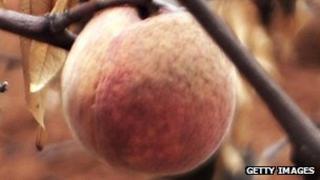 The theft of peaches in China has set scientists' work back at least a year, according to a peach-growing team.
A haul of peaches worth more than $15,000 (£9,600) was taken from the Zhengzhou Fruit Research Institute in Henan province on Monday.
The scientists at the institute had been working on new varieties of the fruit for 10 years.
One of three suspects in the case said he had no idea the peaches were worth so much, according to Henan media.
Two of the three suspects are still being hunted by police, and are said to be a fortune teller and an incense seller.
Investment in the project is reportedly more than 20 times the actual value of the fruit stolen.
Scientists at the institute are reported to be devastated, with one quoted as saying their entire work is ruined.
Between 10 and 20 strains of peach were stolen.