Migrant workers and locals clash in China town
27 June 2012

From the section

China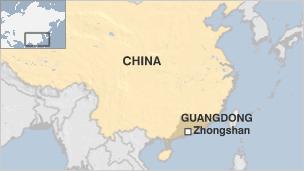 Clashes erupted between hundreds of local people and migrant workers in a town in the Chinese province of Guangdong, police and reports say.
Violence broke out on Monday night in Shaxi township after a teenager was detained by local police, Zhongshan police said.
The fights were said to involve locals and workers from Sichuan province.
Authorities had taken away 20 suspects, a statement on Zhongshan city's official news portal said.
The area in southern China is home to many garment factories employing millions of migrant workers from across the country.
'Sealed off'
Zhongshan police said a teenager from Chongqing was detained by local police on Monday for allegedly beating a primary school student.
Police tied the boy up to restrain him and he also suffered injuries on his face, the statement added.
Family members and friends of the youth gathered outside the offices of local authorities and numbers swelled to about 300 on Monday night. Clashes began after people began throwing rocks, the police statement said.
Official statements said the situation was resolved swiftly and effectively, and rioting crowds were dispersed.
However, the Hong Kong-based Information Centre for Human Rights and Democracy said that at least 30 people were hurt and two police cars smashed. It said the incident was triggered by a fight between a Sichuan youth and a local man.
A South China Morning Post report said that the township was sealed off by authorities on Tuesday and residents were warned to remain indoors.
The clash is the latest in a series of recent incidents involving tensions between locals and migrant workers.
In July 2011 six people were jailed after a riot involving thousands of migrant workers in Zengcheng.
They threw stones at police, burned cars and ransacked government buildings after a confrontation between street vendors and security officials.
Migrant workers are often paid meagre wages and are not given the same rights as urban residents.