China morning round-up: China at G20 summit
20 June 2012

From the section

China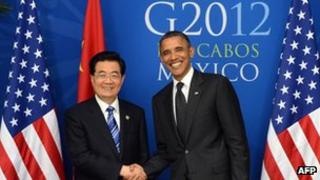 National newspapers lead with China's activities at the G20 summit in Mexico and the Brics nations' pledges to increase their contributions to the International Monetary Fund.
Both the People's Daily and China Daily focus on the "constructive role" China is playing at the summit, with President Hu Jintao urging world leaders to support to the debt-ridden eurozone.
Mr Hu also said developing countries should be given more say in world affairs, reports the Beijing News .
On the boost to the IMF, Shanghai's China Business News says while China is contributing "10%" of the required funds, the US "is not willing to give a hair".
The Global Times' English editorial urges "a bolder push" towards global financial reform that can break up the dominance of Europe and the US in "the world financial system based on the IMF and World Bank".
"If Brics countries can set up a Brics bank, as has been proposed, and carry out international financing through the bank, it will put pressure on the West and even force them to make compromises," said the editorial.
Hong Kong newspapers such as the Ming Pao Daily News and Sing Tao Daily report the arrest of a French architect in Cambodia , reportedly in connection with the case of disgraced Chinese politician Bo Xilai and his wife Gu Kailai.
The arrest of Patrick Devillers was a joint effort by Chinese and Cambodian authorities, says Ming Pao, and China has filed a request for the Frenchman's extradition.
But reports on the arrest have not yet been observed in mainland Chinese media.
The Global Times' Chinese edition and the Shanghai Daily report a motion passed by the US House of Representatives expressing regret for the Chinese Exclusion Act of 1882.
The act banned Chinese workers from migrating to the US, and existing residents from naturalisation and voting for 60 years.
A front page commentary in the People's Daily Overseas Edition describes the motion on Monday as "a late-coming apology and a late-coming justice".
Also on Wednesday, China Daily and Guangzhou's Southern Metropolis Daily say that police in Guangzhou are investigating the death of a foreign resident who collapsed "after fighting with a motor-bike taxi driver".
The man's death sparked a protest by African residents in Guangzhou on Tuesday, Ming Pao Daily News and Sing Tao Daily report.
The man, said to be Nigerian, died inside a police station on Monday after the incident, the Hong Kong reports say.
In a rare bilingual statement, Guangzhou police promised an investigation "in strict accordance to law", while also urging foreigners in China to obey Chinese law.
And with Hong Kong due to mark the 15th anniversary of the handover to China from the UK in less than two weeks' time, China Daily and other mainland Chinese newspapers publish an interview with outgoing Chief Executive Donald Tsang.
Mr Tsang told the Chinese press he was proud of his achievements in office, despite some recent scandals .