Li Wangyang: Hong Kong official questions 'suicide'
13 June 2012

From the section

China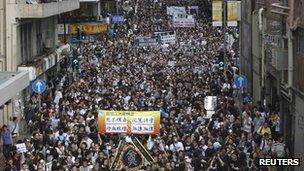 A senior Hong Kong official has said the death of Chinese dissident Li Wangyang is suspicious.
Food and Health Secretary York Chow said he doubted the nearly deaf and blind activist could hang himself.
Li was found dead in his hospital room in the central Chinese city of Shaoyang last week.
Li spent more than 22 years in jail after taking part in the Tiananmen Square protests of 1989, and his death has sparked protests in Hong Kong.
On Sunday thousands marched through the city demanding Beijing investigate the circumstances of his death.
Now Mr Chow, who is leaving office at the end of June, has called on Hong Kong authorities to express their concern about it to Beijing.
"It would be hard for a severely disabled person to commit suicide, even if he wanted to," Mr Chow told reporters, according to AFP news agency.
"Judging from the pictures, it doesn't seem to be suicide... Knowing his personality, he wouldn't commit suicide and not leave a suicide letter."
Li was freed from jail about a year ago, but had reportedly been put back under round-the-clock police watch after restating his commitment to pro-democracy reform in media interviews.
He was found by relatives last Wednesday in Daxiang hospital in Shaoyang, where he was being treated for heart disease and diabetes.
Suicide 'staged'
He was found with his neck tied in a white cloth hung from the bar running along the top of the window, his feet still touching the ground, reports say.
Officials said he had committed suicide while under police guard.
But friends have been quoted suggesting that the suicide seemed to be staged and accusing authorities of rushing to cremate Li's body following an autopsy.
The reports suggest relatives were forced to sign documents authorising his cremation.
As well as the street protests in Hong Kong, thousands around the world have signed an online petition calling for Beijing to conduct a thorough investigation into the circumstances of his death.