China's Yantai city in 'toxic apple' checks
12 June 2012

From the section

China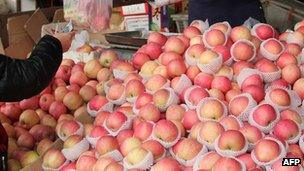 Officials in the city of Yantai in China's eastern Shandong province have promised to step up checks on apples grown in orchards there.
The announcement followed media reports alleging that farmers have been wrapping young apples in pesticide-coated paper.
The chemicals in question are banned from use in fruit wrapping. Wrapping is used to protect the fruit from damage.
Officials in the city insist all apples they have exported are safe.
"The apples passed the Ministry of Agriculture's quality checks in 2010 and 2011," said an unnamed spokesman for Yantai city government, quoted by the official Xinhua News Agency.
"We exported 217,000 tonnes of apples last year, and not a single quality dispute was reported," he told reporters at a press conference on Tuesday.
Regional newspaper Beijing News reported on Monday that papers used to wrap the apples were coated with the pesticides Tuzet and arsenical fungicide.
Farmers wrap the apples with those drugs to ensure that they have smooth surfaces and fine appearances in order to boost sales, said the Beijing News.
Shandong is a leading producer of apples in China.
The spokesman did not confirm or deny the report, but he admitted that tainted wrapping paper was found in some orchards in 2010.
He told reporters that extensive checks across the city are under way. Wrappings with the banned substance, if found, will be confiscated, he said.