China rape arrest after web anger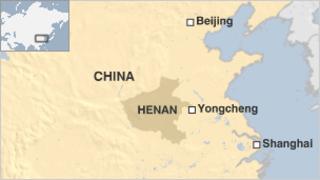 Chinese authorities have arrested a former Communist Party official for rape, after widespread outrage among web users.
Officials said Li Xingong, a former senior official in the central city of Yongcheng, had confessed during a police interrogation.
He was accused of raping 10 girls.
The case sparked heated debate among microblog users, who frequently vent their frustration about perceived abuses of power by local officials.
Mr Li's name began circulating on websites last week.
He was arrested on Friday, and a statement from the party in Yongcheng city said the inquiry was continuing.
It added that he would be "severely and swiftly punished".
State-run Hangzhou Daily had previously reported that Mr Li was caught "committing the crime" outside a school on 8 May, though the paper did not specify the crime.