Chen Guangcheng says China tightens curbs on his family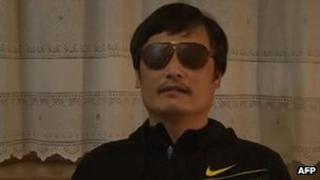 Chinese authorities appear to have increased pressure on the family of blind activist Chen Guangcheng, who fled house arrest last month and spent six days in the US embassy.
The activist has fears about the safety of his family in his home province.
Mr Chen's nephew is suspected of attempted murder after injuring three men with a kitchen knife who broke into his house, his lawyer says.
His brother and sister-in-law also appear to be under house arrest.
The activist, who hopes to go to the US with his wife and children to study, told the BBC he fears that retribution against him has begun.
He is currently in hospital in Beijing awaiting the completion of paperwork to allow him to leave for America, but he has limited information about what is happening in his home province of Shandong.
If he goes, it would be the end of an affair that at one point threatened to become a major diplomatic incident between China and the United States, says the BBC's Michael Bristow in Beijing.
Family 'threatened'
But the activist has expressed concerns about the large family he leaves behind in Shandong province.
"I'm worried about my family's situation right now. I think the local government in Shangdong has started their revenge against me," Mr Chen told the BBC Chinese service on the phone from his hospital bed.
He said that his nephew, Chen Kegui, had been arrested in Shandong on suspicion of attempted murder and that his nephew's wife appeared to be missing.
He also said that police had threatened his brother's family. His brother's wife is suspected of committing a criminal offence although it is not yet clear what - Chen Guangsheng's brother and sister-in-law already appear to be under virtual house arrest.
Liu Weiguo, the lawyer for Chen Kegui, has told the BBC that his client was acting in self-defence when he injured three people - none of them critically - who entered his house on 27 April.
Mr Liu said that one of those who broke into his client's house was the head of Shuanghou town. He said that his client should be declared not guilty.
Mr Chen and his family had been illegally detained in their home in Shandong for almost two years before his escape.
He had previously served a four-year prison sentence after he exposed forced sterilisations and abortions carried out under China's population control policy.
The central government has blamed regional officials for his detention, but Mr Chen says he wants them to prove that assertion and punish those responsible.
Mr Chen says he has an offer to study at New York University, and all of the US formalities have been completed.
He is in hospital because he is still being treated for a leg injury he sustained during his escape.