China approves dock project in disputed Paracel islands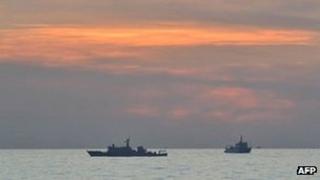 China has decided "in principle" to build a supply dock on an island it disputes with Vietnam in the South China Sea.
The province of Hainan is looking to build on what is known as Jinqing in China and Duy Mong in Vietnam in the Paracel islands as part of tourism plans, according to a statement.
There have been tensions over both countries' claims to the chain of small islands and reefs.
China has occupied the area since 1974.
According to a statement published on China's State Oceanic Administration website on Thursday, the project will be privately funded after it agreed "in principle" to the proposal from Hainan province.
The statement also mentions plans for another supply dock in the South China Sea, but no other details were given.
Tan Li, deputy governor of Hainan province, said earlier this week that tourism trips would be open to the public later in the year.
Tensions have escalated recently between China and Vietnam after Vietnamese fishermen were detained last month by China for fishing around the Paracels. The fishermen where freed on 21 April.
The South China Sea, seen to be rich in oil and natural gas reserves, has been a source of maritime conflict between several countries.
The Philippines, Brunei, Malaysia and Taiwan also have claims in the area, as well as China and Vietnam.