China morning round-up: Medicine capsule scandal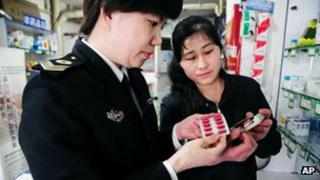 Heath officials in China are stepping up their crackdown on toxic medical capsules that contain excessive chromium, according to Friday's newspapers.
A weekly programme on product safety on state-run China Central Television (CCTV) exposed the alleged use of leather waste-products to make gelatine, which eventually ended up as plastic capsules used for medicine.
People's Daily and Shanghai Daily say China's State Food and Drug Administration (SFDA) performed checks on 33 capsule medicine products, with 23 out of the 42 samples found to have excessive chromium - a toxic heavy metal.
Police across the country have detained 53 suspects, reports say, as the Ministry of Public Security stepped in to co-ordinate the nationwide crackdown.
China Daily said the SFDA has revoked licenses of two gel capsule manufacturers in eastern Zhejiang province for unspecified "grave violations of laws and regulations".
Guangzhou's Southern Metropolis Daily says authorities are still working to track down all the products in question.
Shanghai's China Business News says Zhejiang's Xinchang county - the place at the heart of the storm - produced 40% of China's gel capsules but investigations showed lax regulations had long existed.
The English title of The Global Times' bilingual editorial suggested recent food and drug scandals in China "threaten governance".
"Each food safety scandal could become an issue of public crisis," said the editorial, "the worry over what people put in their mouths could escalate into panic."
"If this happens, the public could vent their anger at the failure of government supervision. In several recent cases, this anger has been extended to the entire political system."
"The only thing the government can do is to apply severe punishment to food safety violators, including persons and officials aiding and abetting them," it said.
As tension looms between Sudan and South Sudan, China Daily says on its front page that South Sudanese President Salva Kiir Mayardit's China visit next week will still take place.
Beijing will offer to mediate and ease the tension during the visit, says the report.
A commentary in the People's Daily said negotiation "is the only way out" for the North and South, as it reiterated Beijing's call for a ceasefire.
Meanwhile, the Global Times says any war between the two countries "will threaten China's energy safety".
"The war will impact oil supply to China. About 5% of China's oil imports come from Sudan," Yin Gang, a senior researcher of the Chinese Academy of Social Sciences, told the Global Times.
"Given that regional tension in the Gulf is increasing, over 10% of oil imports to China would be endangered," Mr Yin said.
Also on Friday, China Daily , Beijing News and others report on China's objection to South Korea's imprisonment of Chinese fisherman Cheng Dawei for stabbing a South Korean coast guard to death. He will be jailed for 30 years .
The Global Times says South Korean people also objected to the sentence as being "too lenient", while a Chinese skipper in support of Cheng says South Korean coastguards "are pirates".