PM set to raise Neil Heywood death with China official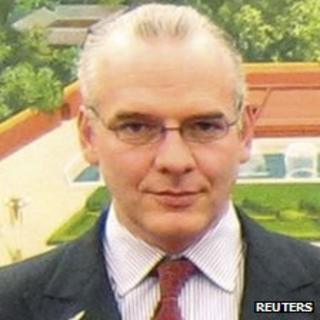 David Cameron is set to raise the death in China of Briton Neil Heywood when he meets a senior Chinese Communist Party official at Downing Street on Tuesday.
Deputy Prime Minister Nick Clegg earlier raised the case with another member of the politburo in London.
Gu Kailai, wife of disgraced Communist Party official Bo Xilai, has been detained on suspicion of murder.
Meanwhile, the BBC understands the UK would allow Mr Heywood's Chinese widow to enter the country if she wished.
Last week, it was reported that Wang Lulu was too upset to talk publicly about Mr Heywood's death, although it is not clear whether she will leave China.
'Excessive alcohol consumption'
Mr Heywood, who had lived in China for 10 years and spoke fluent Mandarin, lived with his wife and their two children. Both children have UK passports.
The 41-year-old was found dead on 15 November in a hotel room in the central city of Chongqing.
Chinese officials initially said he had died of "excessive alcohol consumption" and that explanation was at first accepted by Mr Heywood's family and the British embassy.
But after friends raised doubts, the British government asked the Chinese authorities to reopen the investigation.
Unconfirmed reports in China suggest that Mr Heywood may have died from cyanide poisoning.
Commenting on the case, Foreign Secretary William Hague, has defended his department's handling of it. He insisted the case was dealt with correctly.
Mr Hague noted a post-mortem examination in China was not requested by Mr Heywood's family, and it was not the role of the Foreign Office to do that.
He told the BBC's World At One: "It's very important to remember that we have asked the Chinese to investigate, we have demanded an investigation into what happened and China is now conducting an investigation so the very important thing now is what happens in that investigation and we want to see that run its course."
'Welcome investigation'
The prime minister is due to discuss trade, cultural and education links with politburo member Li Changchun.
A Downing Street spokeswoman said the case was "likely to come up" in the talks with Mr Li.
"The purpose of the meeting is to strengthen Britain's relationship with China in a range of areas including trade and people-to-people contacts, including such things as education and culture," she said.
"I think he [Mr Cameron] will echo what the foreign secretary has said, that we welcome the investigation that is ongoing and we look forward to seeing the outcome of that."
Foreign Office minister Jeremy Browne met Mr Bo in Chongqing on 17 November but is understood not to have raised the issue of Mr Heywood's death during his visit.
Asked whether this was a cause of concern for the prime minister, the Downing Street spokeswoman said: "We were informed of the death of Mr Heywood on 16 November by the Chinese authorities.
"We became more concerned following suggestions from the business community, and we asked the Chinese authorities to launch an investigation.
"We acted as soon as we thought the concerns about the case justified it, and we are now pleased that the Chinese have launched an investigation."
During a Far East tour last week, Mr Cameron said that he was pleased the Chinese authorities were taking action.
'A lot of questions'
Also speaking on the World at One, the Former Liberal Democrat leader Sir Menzies Campbell said ministers needed to explain why it took so long for the case to be raised with the Chinese authorities.
"There are a lot of questions here and I'm afraid to say that not all of them will be answered", he added.
Conservative MP Mark Pritchard has called on the government to answer a number of questions in Parliament about Mr Heywood's death, including when the UK embassy was first informed.
He has tabled written questions for the Foreign Office to answer on Tuesday when parliament returns from the Easter break.
State media has reported that Mrs Gu and Zhang Xiaojun, an orderly at Mr Bo's home, have been arrested.
Mr Bo has been suspended from the Communist Party's 25-member politburo amid allegations of "serious discipline violations".