China morning round-up: More South China Sea discussion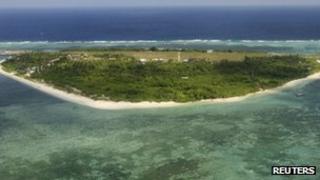 Friday's newspapers continue the debate on territorial disputes in the South China Sea.
The Global Timesreports the Foreign Ministry's called for "peace and stability" in the Asia-Pacific region, after the first batch of US Marines deployed in Australia's northern port of Darwin.
Washington has stressed that it is not an attempt to isolate China, yet the move has irritated Beijing given the proximity of Darwin to the South China Sea.
Hong Lei, the ministry's spokesperson, said that China should be allowed to have direct discussions with Asean countries on drafting a "code of conduct" for the South China Sea, reports theBeijing Times.
The proposed code - based on the 2002 Declaration on the Conduct of Parties in the South China Sea - is meant to regulate how countries should behave in settling territorial claims in order to avoid any stand-offs or clashes.
The Global Times' bilingual editorialwarns that encircling China on South China Sea or any other issue "may have [an] international backlash".
"The troubles China faces today are caused by its rise," said the editorial. "China must be confident and keep calm. These disturbances are a reflection of the anxiety of other countries and should be handled quietly."
Meanwhile,Shanghai DailyandBeijing Timessay China's tourism authority denied previous reports that the country will soon launch sightseeing tours to one of the disputed Spratly islands, saying such reports were "fabricated".
Beijing News, however, reports that the southern island province of Hainan is still planning the tourism move.
China DailyandBeijing Newsalso report on Beijing's follow-up effort to the shooting incident in the Pacific nation of Palau which took place last weekend.
Chinese diplomats from the Federated States of Micronesia have been dispatched to Palau to look into the incident, reports say. Palau has diplomatic relations with Taipei instead of Beijing.
In other news,China Dailyreports comments made by Vice-Premier Zhang Dejiang - who now also serves as the Communist Party secretary of Chongqing - that the central municipality should continue to open up to foreign investment.
People's Dailyalso claims that China's recentcrackdown on internet rumoursreceived "firm support" from people across the country, especially in Beijing, Shanghai and Guangdong.
China DailyandPeople's Dailyalso cover thediscovery of a species of dinosaurwhich is believed to be the largest known feathered animal.
And nearly two weeks after Hong Kong has picked its new leader,People's Daily Overseas Editionruns a lengthy profile of Chief Executive-elect Leung Chun-ying, who is more commonly known as CY Leung.
Guangzhou's Southern Metropolis DailyandMacao Daily Newssay the General Administration of Customs has smashed a smuggling ring in southern Guangdong province which illegally imported some 400m yuan ($63.37m; £40.03m) worth of digital cameras and accessories through Macau.
It is the biggest case of its kind ever unearthed in China, reports say.