China morning round-up: Xi Jinping begins US visit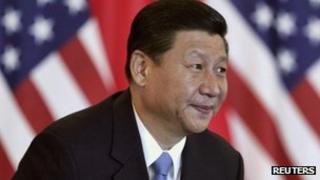 As Chinese Vice-President Xi Jinping arrives in Washington, Tuesday's newspapers in China focus on the future Chinese leader's view of China-US relations.
Two of the national papers - the People's Daily and China Daily - publish the transcript of a "written interview" by Mr Xi with the Washington Post in which he says there are no reasons why China and the United States cannot engage in friendly co-operation.
"We are at a time when the negative impact of the international financial crisis and the European debt crisis continues to spread," said the vice-president. "It is all the more important for China and the US to communicate, coordinate and co-operate more closely."
However, Washington Post says the Chinese newspaper transcripts "did not include questions asked by The Post and included questions that the newspaper did not pose".
Guangzhou's 21st Century Business Herald discusses Beijing's statement that Mr Xi's visit is aimed at reducing the "trust deficit" between the two countries, while suggesting that major Chinese investment in the US would still be a key feature of his trip.
Many papers including Guangzhou's Southern Metropolis Daily also report the formal prosecution of smuggling kingpin Lai Changxing in the southern city of Xiamen - a scandal that was first unearthed when Xi Jinping was in charge of Fujian province.
Mr Lai is charged with "smuggling common goods" and bribery. He was deported by Canada last July.
China Daily, citing legal professionals, suggests that Mr Lai could face a maximum penalty of life imprisonment but not execution - a prerequisite from Ottawa before it agreed to hand him over to Beijing.
The Global Times says the Canadian government has already denied rumours that no one is allowed to visit Mr Lai in prison, with their diplomats scheduled to meet him regularly.
Shanghai Morning Post reports a visit to Iran by Assistant Foreign Minister Ma Zhaoxu, where the Chinese envoy urged Tehran to cooperate with the IAEA on its nuclear programme and return to the negotiation table.
The Global Times, citing officials from the Iranian Foreign Ministry, further suggests that President Mahmoud Ahmadinejad will be visiting China in mid-March, but it does not mention whether Mr Ahmadinejad will be discussing the nuclear issue.
Valentine's Day is also a significant day in China in recent years, with Shanghai Morning Post saying that near 1,000 couples have booked to get married on Tuesday in the financial hub.
Beijing News says the capital has over 2,100 couples booked to tie their knot, while marriage registries across the capital will serve as many couples as possible, as they expect a whole-day record of over 4,000 marriage certificate to be issued.