Love me doe: Ram and deer reunited at China zoo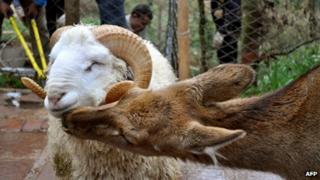 A Chinese zoo has said a doe and a ram which became close friends but were forcibly separated will be reunited.
Their split had caused such torment that Changmao the ram became violent, while Chunzi the doe had squeezed through the fence to be near to him.
After only two hours mercy was shown and now the couple will be allowed to live happily ever after at Yunnan Wild Animal Park, Kunming, said China Daily.
Thousands had followed the star-crossed couple's plight online.
"The sheep and the deer have been in love with each other since last year," said zoo worker Li Li.
The pair's unusual relationship became famous after a report on the local TV channel. The zoo posted pictures of the couple on its own blog, and asked whether it was ethical to let the pairing continue.
Thousands commented, among them Cai Yue, who told China Daily: "When I first learned the news, I thought this might be a joke. But when I saw these photos, the love in their eyes touched my heart."
Zoo worker Liu Gencheng said Chunzi had not resorted to Changmao because of lack of attention from her own species.
"Chunzi is the prettiest deer among the six," Liu Gencheng told the paper. "She was chased by other bucks. But Chunzi loves playing with Changmao the most."
'Normal family'
But it seems that the ram's affections are not limited to his favourite doe.
After Changmao fathered a baby lamb with the zoo's only female sheep, the zoo's manager decided he and Chunzi should be separated.
"The baby sheep needs care from both parents," he said.
But the zoo's plan to form a "normal family" and rehouse Changmao on Friday with the lamb and its mother went awry.
"Changmao hurt his baby and the female sheep with his horns. It scared us," said Li Li. Meanwhile, Chunzi was trying to lick her companion through the fence.
The zoo keepers changed their mind and Changmao and Chunzi are now back in the same pen.
"We won't do anything to separate them. They will be together," said Li Li.