Probe call after 'dead' Guangdong baby found alive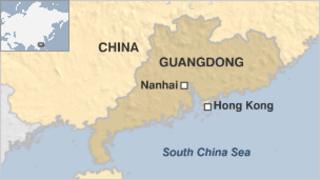 Officials in a southern Chinese province have called for an investigation after a new-born baby pronounced dead by hospital staff was later found by alive in a plastic bag.
The incident happened late last month in Guangdong province's Nanhai.
The baby has since been hospitalised in a stable condition and his parents are now seeking compensation from the hospital.
Local health officials say a number of medical staff have been suspended.
At a press conference, officials said they had suspended the head of obstetrics and gynaecology at the hospital, together with doctors and nurses on duty when the incident took place.
Liao Xinbo, deputy director of health for Guangdong Province, has also appealed for an investigation into the incident.
Writing on his accredited Sina Weibo account - China's equivalent of Twitter - Mr Liao said the local health authority should "give an answer as soon as possible".
'Dumped'
The incident, on 26 October, was reported by the Southern Metropolis Daily.
Nurses told Liu Dongmei and her husband Wang Haizhang that her baby - a month premature - had been stillborn.
But when their relatives arrived at the hospital, they found the baby alive in a plastic bag, dumped in a bathroom.
The baby is still receiving treatment at the hospital. Guangzhou's Nanfang Daily reports that his parents are seeking a through investigation and compensation of 300,000 yuan ($47,221; £29,627).
The BBC sought comment from the hospital but was declined.
However Dr Huang Lichuan, its head of obstetrics and gynaecology, told the Southern Metropolis Daily that staff believed the baby had died.
She called for an investigation to determine whether the hospital had committed wrongdoing.