Leading candidates raise the stakes in Afghan elections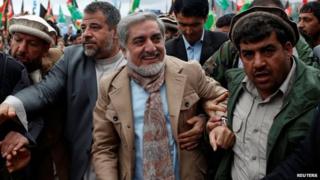 Both of the leading candidates in Afghanistan's presidential election have ruled out a deal and say they want to contest a second round if neither wins outright.
Official results are still some days away, but campaign officials have been carrying out their own counts.
Abdullah Abdullah has been more reluctant than Ashraf Ghani to give a figure for his vote, but he told the BBC that he was confident that he was doing "better than every other candidate".
If no candidate wins more than 50% of the vote, there will be a second round in May, unless one stands aside.
There had been speculation that there might be a deal, but Dr Abdullah has now told the BBC that "the people should be given a chance".
Dr Ghani, who insists that he has won more than 50% of votes cast, made his position about a possible run-off race clear in an earlier BBC interview, saying the public should not be deprived of their voice.
"There has to be a clear winner," he said.
The results collected by candidates come from counts posted outside polling centres after counts on Saturday and Sunday.
The ballot boxes were then sent for verification to the Independent Election Commission (IEC) in Kabul, the official body overseeing the process. Officials there have privately expressed concern about candidates speaking so openly ahead of official results.
The IEC will not publish any results until they have them from an even geographical spread of at least 20 provinces.
A separate body, the Electoral Complaints Commission (ECC), will assess complaints and issue rulings, which could involve fining candidates or declaring ballots ineligible.
The ECC held a public hearing where the vice-presidential candidates for six of the eight campaigns made their complaints. Dr Abdullah's deputy Mohammed Khan had the longest list of complaints.
These ranged from shortage of ballot papers to alleged widespread corruption, with voters told to go home because ballot papers were already filled in.
Many of these complaints related to Kandahar, Zabul and Paktia - three frontier provinces in the south-east.
ECC head Sattar Saadat told the BBC that he had tried before the election to persuade President Karzai to dismiss the police chief of Kandahar and the governor of Paktia, fearing fraud.
"We asked the president about the police chief of Kandahar and governor of Paktia," Mr Saadat said, "and that was clear in front of media, civil society and political parties."
There has been speculation that the election monitoring bodies would be working for President Karzai to ensure he controlled the succession.
But all the indications are that this is a functioning independent process, with officials involved fully aware of their historic task.
Mr Saadat said the commission had made a "promise to our people" to investigate allegations of corruption and irregularities.
" [We] will make a good decision about this election. I am confident about it," Mr Saadat said.