Pakistan: Gunmen kill nine anti-Taliban militiamen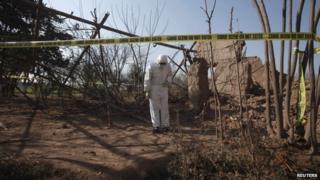 Militants shot dead nine anti-Taliban militiamen in the Pakistani city of Peshawar on Wednesday, police say.
Some 24 gunmen stormed the house of the militiamen, opening fire and throwing hand grenades, police said. No group has said it carried out the attack.
On Tuesday, 13 people were killed in a grenade attack on a cinema in Peshawar.
The attacks come as Taliban and government representatives are engaged in preliminary peace efforts aimed at charting a "roadmap" for negotiations.
One of the five conditions set by the government before talks can begin in earnest is a cessation of hostilities.
The attackers, who entered the house early on Wednesday, spared women and children, police said.
"After entering, they shot all the men in the house using AK-47 rifles," Peshawar police chief Ijaz Khan Mohmand told Reuters news agency.
Correspondents say police suspect the attack was to avenge the killing of a locally important militant leader by the militia in a recent shoot out.
A policeman from the same family was killed by militants a few days ago, reports said.
Peshawar has suffered numerous bomb and gun attacks over the years.
Much of the violence to have hit Peshawar in recent years has come at the hand of Taliban militants.