North Korea purge: Brutal but risky move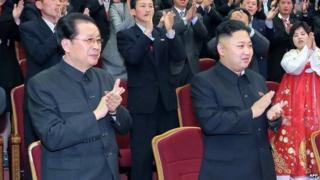 The official North Korean announcement of the execution on 12 December of Chang Song-thaek, the North's second most prominent official and uncle of the country's leader, Kim Jong-un, is a brutal but potentially politically risky move by Mr Kim to assert his political primacy and a shift towards an increasingly centralised and personalised system of rule.
Mr Chang's swift and bloody elimination (unconfirmed reports talk of him having been executed by machine-gun), some four days after he was shown on state television being dragged out of a meeting of the politburo, is relatively rare in a country where the leadership, notwithstanding its past authoritarian crackdowns, has tended to remove political opponents with limited fanfare. Today's announcement appears to be a throwback to the 1950s, when such uncompromising personal purges were more commonplace.
Equally unusual has been the lengthy catalogue of crimes that Mr Chang was convicted of, including economic corruption, financial mismanagement, pursuing a "decadent, capitalist lifestyle", overseas gambling, disobeying the country's military, and most seriously of all, planning a coup and seeking to seize "the supreme power of [the]… party and state".
In uncompromisingly vituperative language, the North's media describes Chang as "despicable scum", "a traitor for all ages" and of mobilising "anti-party, counter-revolutionary factional elements" intent on overthrowing the country's leadership.
The reference to a group of regime opponents including "reactionaries" and "undesirable and alien elements", and not merely a single disloyal individual, exposes ambiguities about Kim Jong-un's actual authority.
It may hint at a wider circle of individuals hostile to the regime, and the next few days and weeks will be an important indication of how widespread such opposition could be, especially if the purge is widened to include other individuals formerly close to Mr Chang.
Removing a single individual may not be enough to quell dissent if it is widespread; alternatively a swift and brutal execution may be a sufficiently powerful deterrent to any other would-be rivals.
Diluting family credentials
By emphasising and publicising to the North Korean public Mr Chang's longstanding disloyalty not only to Kim Jong-un, but also to the country's two previous leaders Kim Jong-il and Kim Il-sung, the leadership has taken a risk.
Exposing disunity so dramatically challenges the state's narrative of political cohesion and strength at home and may, inadvertently, raise doubts in the minds of ordinary North Koreans about the stability of the new leadership, in power for barely two years.
Executing a close member of the Kim dynasty, albeit one linked by marriage rather than by blood ties (Mr Chang's wife is Kim Kyong-hui, the sister of Kim Jong-il), is also an unusual step, since it potentially dilutes the familial credentials that underpin the legitimacy of the North's family state structure.
Kim Kyong-hui has herself not been seen in public for some time, perhaps on account of her poor health, and there has been speculation that she may have had a hand in the removal of her husband, prompted by unconfirmed reports of his womanising and a long period of separation.
Economic policy disagreements may also have had a role to play in Mr Chang's removal. Mr Chang has been seen as a reformer in some circles and a leading official with close ties to the Chinese government.
The North Korean media denunciation of Mr Chang includes a criticism of his management of a number of critical economic zones in the north of the country, and the regime may be seeking to insulate itself from any failures by scapegoating Mr Chang for the government's more systemic economic shortcomings.
Reports of defections
However, economic reform itself is unlikely to be retarded, despite Mr Chang's removal.
The government remains committed to the opening of some 14 special economic zones, underpinned by new legislation passed this year; China and North Korea have this week confirmed their intention to develop a new transnational rail connection linking Beijing and Pyongyang and possibly extending as far south as the border with South Korea; and next week, North-South talks will take place in the Kaesong Industrial Zone, bringing together international business representatives from a number of G20 countries, as well as officials from the International Monetary Fund and the Asian Development Bank.
In the next few days, the North's neighbours will be closely watching for signs of further instability. There have been unconfirmed reports of defections overseas by some of Mr Chang's associates and the recalling to Pyongyang of Mr Chang's family members, perhaps as a preliminary to further disciplinary measures.
Domestic upheaval may also have foreign policy consequences, as the government seeks to shore up its military defences to guard against any attempt by outside powers to exploit the instability at home.
The South Korean military is closely monitoring the North's forces and there are some reports, as yet unconfirmed, of tighter border controls by the North and the reinforcing of the North's military assets along the Northern Limit Line (NLL) in the often contested waters off the west of the peninsula.
North Korean military adventurism, whether in the form of a missile launch, a border clash at land or sea with the South, or a fourth nuclear test, might be an attractive, but high-risk option for Pyongyang as a means of distracting opinion at home and creating unity via a deliberately staged crisis abroad.
This, and the possibility of further political instability within the North, are powerful incentives for the United States and its regional allies to monitor developments in the North closely over the next few days.
While the evidence suggests that Kim Jong-un's position has been strengthened rather than weakened by the events of the last week, the novelty and dramatic nature of these changes suggest that the political situation, for now, will remain fluid and difficult to predict.
Dr John Swenson-Wright is a senior lecturer at the Faculty of Asian and Middle Eastern Studies, University of Cambridge, and Senior Consulting Fellow, Asia Programme, Chatham House.