Typhoon Haiyan: Searching for families and supplies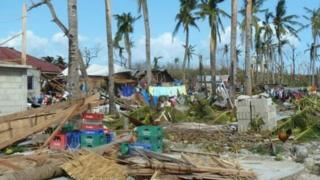 More than nine million people in the Philippines are believed to have been affected by Typhoon Haiyan.
Families and friends of those in the worst affected areas are struggling to learn if people are alive or dead.
Others are finding it difficult to get supplies to the areas that need it - and seeing food shortages develop even in places less badly hit by Typhoon Haiyan.
Here are some of their stories.
Melondina Netzger, Lancaster, Pennsylvania, USA
I am trying to find out any information about my family in the village of Pangpang in Leyte.
I have not heard from them since the typhoon struck last Friday.
I have two sisters, a brother and an aunt there and we have not been able to get in touch with them.
My older sister is a missionary and was building a church there. She had 30 children in her orphanage when Haiyan hit. We have had no word from them since.
My other relations in Manila are also trying to find out what has happened to them, but nobody can reach them. All communications are down.
I am very worried, because the village is about 200 miles from Tacloban and nobody has probably been able to reach the area yet.
Christine Atillo-Villero, Cebu, Philippines
My parents live in Tacloban, right by the sea. They survived because they live in a sturdy house.
Water came into their house. They went up to the second floor. They hid there for four hours.
The house is made of concrete cement. It's the only one left standing. All around their house there is just debris of flattened houses. They're very lucky. Their roof blew off though.
Ten neighbours also survived because they were in my parents' house. The rest were washed away. About 90% of houses there were destroyed.
Now there is chaos. People are looting to get food. They are even going into other people's houses.
I'm a doctor and I'm hoping to put a team of medics together and go back to Tacloban. People need treatment. There are no body bags.
My parents have limited supplies. They are being very careful.
People are coming and asking them for food. They give food away but need to save some for themselves. If someone asks for help, you can't say no.
There's no rich or poor. Everyone is looking for food and water.
Transportation back to the city is difficult because there's a lot of debris. People are starting to get out of the city. The airport is a wreck. We're looking for people to help us.
Bob King, Sheffield, England
My wife's family live in a small fishing village called Sulangan at the bottom of Samar Island.
We've been doing everything we possibly can to contact people but have heard nothing for days.
Apparently the storm went right over the top of our home in Sulangan, and nothing has been heard since.
There are no phone lines, no power, nothing.
If Tacloban [city] was bad and Guiuan [town] was bad, Sulangan will be gone.
There were two to three thousand people living there and there could be no-one left.
One of my wife's cousins has flown in to Manila from America and managed to get to Tacloban.
He has just arrived and has now set off to walk to Sulangan.
It usually takes a steady three hours drive at 100km/h (60mph).
If all the bridges are down and he has to wade across the creeks, he will be walking all day and all night.
Reynafe Caberrio Rita, Surigao, Philippines
I have relatives in Homonhon Island.
I've not heard from them since the storm hit.
I'm currently in Surigao with my parents, who are safe.
My sister, uncles and other relatives are on Homonhon Island and we've not had any contact.
The island will have been severely damaged as the typhoon hit there first.
The government aren't providing any help so I'm organising a boat to head to the island to see if we can take supplies and find out what has happened to my family.
We plan to leave this week - the journey will take about eight or nine hours by boat.
Andrea Agarwal, Cebu city, Philippines
I live between Cebu city and the island of Malapascua where I have my business.
I was in Cebu when the typhoon hit and haven't made it back to the island yet.
Cebu city wasn't badly hit but the aftermath here is difficult.
We are now having to deal with people coming into the city to get food, so there is hardly any food in the supermarket shelves.
The roads around the city aren't good and supplies are running out.
My partner ,Trevor, is also in Cebu city but he has made it back to Malapascua once since the typhoon and is hoping to go again tomorrow.
Malapascua is only 2km long and was in the path of the typhoon - people have lost everything.
All the wooden structures where the locals live have been demolished.
The resorts are all destroyed.
My diving business is still there but my pub and restaurant are destroyed.
The island has a population of three or four thousand and incredibly there were no fatalities.
There is still no electricity or communications and we are getting no help at all from central government.
Local businesses are helping islanders and bringing in supplies, but they can only do this in small quantities.