Commentators see Mehsud's death as setback for talks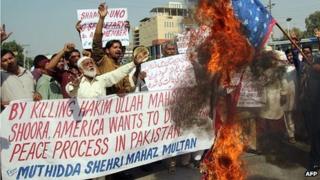 Pakistani press and media commentators have highlighted the timing of the attack on Pakistani Taliban (TTP) leader Hakimullah Mehsud, which they see as a setback to the government's attempts to hold peace talks with the militants.
One editorial predicts that Mehsud's death will bring "scant advantage". Meanwhile, an Afghan analyst says the attack has weakened the TTP.
Pakistani newspaper Dawn:
Mehsud "perished when a government team was about to leave for Waziristan to have 'peace' talks with the TTP. It seems the US deliberately chose such an occasion to eliminate the TTP chief so that any peace process could be torpedoed... Hakimullah's death may be a setback for peace in the immediate future. However, in the long run, it may prove to be a huge opportunity for diluting the TTP."
Pakistani newspaper The News
Mehsud's death "is sure to be seized upon by many as a turning point in the war against militancy. Such speculation may be premature... Targeting individuals brings scant advantage when dealing with a group with as many members as the TTP while the civilian cost of drone strikes only helps them recruit even more people to their cause."
Pakistan Observer
"Every time Pakistan is close to finding a negotiated settlement of the militancy issue, and attempts to tame the disgruntled Taliban through parleys, the process is sabotaged by the policymakers at Washington"
Pakistani newspaper The Frontier Post
"The killing of the Taliban leader is the latest blow to the Nawaz Sharif-led government's efforts to engage the militant organization in talks"
Analyst Tufan Waziri, on Afghanistan's Tolo News TV
"I think the Taliban, especially the TTP of Pakistan, has now been considerably weakened and will not be able to increase pressure on Pakistan or on us in the future, because the important commanders to succeed Hakimollah Mehsud have either been detained or killed."
Analyst Asad Munir on Pakistan's Express News TV
"Such an incident should not have taken place while the government was preparing for talks with the Taliban. Now the Taliban will avenge this incident by launching attacks against common people, the army, and the officials of the Inter-Services Intelligence"
Analyst Hamid Mir on Pakistan's Geo News TV
"There were three to four groups within the TTP that have opposed the talks since day one, and now their position will become strong... The question arises why the Taliban groups or commanders who are not in favour of talks have not been targeted so far."
BBC Monitoring reports and analyses news from TV, radio, web and print media around the world. For more reports from BBC Monitoring, click here. You can follow BBC Monitoring on Twitter and Facebook.