Afghan 'fishing' police held over children's deaths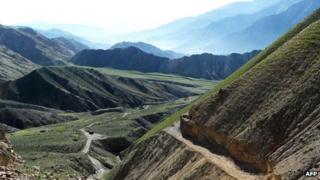 Eight police officers have been arrested in Afghanistan in connection with the deaths of six children in an explosion in the Doshi district of northern Baghlan province on Friday.
The interior ministry said the officers were suspected of firing rockets into a pond to catch fish, hitting a crowd of children nearby.
However, other reports said the children were killed by a mine.
At least two other children were wounded in the incident.
The district police chief told the BBC the son of the head of the provincial council was one of the eight officers arrested.
He said an investigation was under way and it would take at least a week before they reached any conclusion.
Differing accounts
Another local police source told a BBC reporter in Kunduz that the children had been killed by an unexploded rocket shell.
The children found the shell on the side of the same river in which the local police had been fishing on Friday, the source said.
Shamsoddin Sarhadi, governor of the Doshi district, told the Afghan Islamic Press news agency: "Some children were feeding their animals in a pasture when a mine planted by armed opponents exploded."
But in a statement on Tuesday, the interior ministry said the policemen had been arrested for firing a rocket into the river on Friday with the aim of catching fish.
They are accused of misusing government weapons.
The ministry has referred the case to the military prosecutor.