Cambodia landmine blast leaves six dead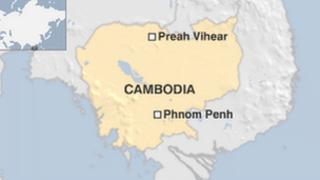 Six people in Cambodia have died after their vehicle hit an old anti-tank mine, officials say.
The blast in northern Preah Vihear province also seriously injured another person on Wednesday.
The men, said to be farmers who were inspecting their paddy fields, were driving through a flooded area.
Unexploded landmines, a legacy from Cambodia's civil war, continue to kill and injure civilians despite an ongoing de-mining drive.
"The anti-tank mine was left over from the civil war and it was planted by the Khmer Rouge soldiers to defend their area from the government forces," provincial police chief, Sy Kiri, told Agence France-Presse news agency.
He added that the area was a battlefield in the 1980s and had not yet been demined.
The Khmer Rouge, the ruling party in Cambodia from 1975 to 1979, was responsible for one of the worst mass killings of the 20th Century.
The brutal regime claimed the lives of more than a million people - and some estimates say up to 2.5 million perished.