Pakistan opposition PPP to boycott presidential election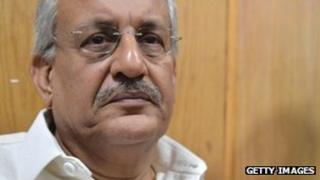 Pakistan's main opposition party, the PPP, says it will boycott next week's presidential elections because it has not been given enough time to campaign.
The Supreme Court had brought the vote forward from 6 August to 30 July.
Ruling party members had complained the first date clashed with the pilgrimage to Saudi Arabia marking the end of the Islamic holy month of Ramadan.
Observers say victory for the ruling PML-N is a foregone conclusion and the boycott will have little impact.
"We have been left with no alternative, but to boycott the election," Senator Raza Rabbani, who was nominated by the Pakistan People's Party (PPP) to run as its candidate in the presidential election said. "We were not given enough time to do our campaign.
"The Supreme Court did not issue us any notices, nor did they hear us or provide us an opportunity to present our point of view… a unilateral decision was made," Mr Rabbani was quoted as saying by the AFP news agency.
Twenty-four candidates filed their nomination for the election. Mamnoon Hussain is the candidate for the Pakistan Muslim League - Nawaz (PML-N).
Members of the Senate, National Assembly and four provincial assemblies will elect the new president. The incumbent, President Asif Ali Zardari's term ends in early September.
The PML-N has a majority in the National Assembly and in Punjab provincial assembly.
Pakistan Tehreek-e-Insaf (PTI), the second largest opposition party led by former cricketer Imran Khan, said they would contest the election despite reservations over the change of schedule.
Retired Supreme Court judge Wajihuddin Ahmed is the PTI's candidate for president.