NZ police will not file charges over Pike River mine blast
17 July 2013

From the section

Asia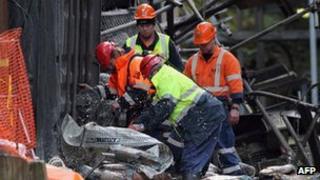 New Zealand police have said that no individual will face criminal charges over a deadly mine blast in 2010 which killed 29 men.
There was insufficient evidence for manslaughter charges against Pike River Coal management after an inquiry of more than two years, officials say.
A court had earlier ordered the mine to pay compensation to victims' relatives.
The blast, on the west coast of the South Island, was one of the nation's worst mining disasters.
An official investigation last year found that the 19 November incident was caused by a methane gas explosion.
A statement from the police said there was "general acceptance and ample evidence that there were widespread departures from accepted standards of mine operations".
However, "the lack of any causative link to the specific events which led to the explosion means a manslaughter prosecution of any individual does not meet the standard of evidential sufficiency," the statement added.
Detective Superintendent Peter Read, head of the inquiry, said the decision not to file manslaughter charges was "very difficult", but added that officials were "meticulous in our investigation".
A spokesman for the families told local media they "now have to evaluate" options after learning of the police decision.
Earlier this month, Pike River Coal was ordered to pay NZ$110,000 ($86,000, £57,000) to each victim's family and to two men who survived the disaster.
The firm is in receivership, however, so it is not clear how this can be paid in full.
In April the company was found guilty of multiple health and safety violations. Its former chief executive, Peter Whittall, faces a separate trial.