Indonesia boxing stampede kills 17 in Papua province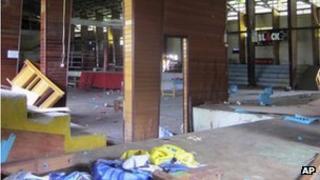 At least 17 people have been killed in a stampede at a boxing match in Indonesia, police say.
The match took place on Sunday night in Nabire town in the eastern province of Papua.
The stampede occurred as supporters of the loser started rioting, Papua police spokesman Gede Sumerta Jaya told the BBC.
They started throwing chairs at the winner's supporters, causing people to panic and flee the stadium.
Most of those killed were women, reports said, and many others were hurt in the stampede.
Media reports say there were more than 1,000 people in the arena even though its official capacity was only around 800 people, the BBC's Karishma Vaswani reports from Jakarta.
Thirteen people are being questioned for their part in organising the event, but so far no one has been named a suspect, our correspondent adds.
Only two of the five stadium gates were functional during the match, reports say.
Riots like these are quite rare in boxing matches in Papua, police say.
In 2011, two football fans were killed during a stampede at a match in Jakarta between Indonesia and Malaysia.
In 2008, at least 21 people were also killed while waiting for charity handouts from a wealthy family at a town in East Java.