Australian charged over US Canberra embassy crash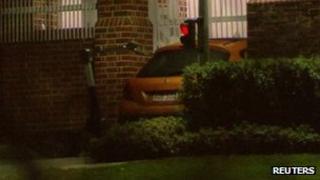 A man has been charged after crashing his car into the gates of the US embassy in the Australian capital, Canberra.
Adrian Richardson, 30, has been charged with damaging a diplomatic residence following the incident, which happened on Wednesday evening.
He has also been ordered to undergo a mental health evaluation.
The incident caused a security scare, with fire-fighters, police, ambulances and the bomb squad called to the scene.
A prosecutor told a court hearing in Canberra on Thursday that Mr Richardson turned off his lights, revved his engine and drove straight at the gates of the embassy compound.
The crash caused ''significant damage to the gate and breached the perimeter of the embassy'', prosecutor Katrina Musgrove said.
Mr Richardson, who was not injured, had left an adult mental health facility where he had been a resident shortly before the incident, she said.
He will face court at a later date.