Japan defence white paper warns of China 'force'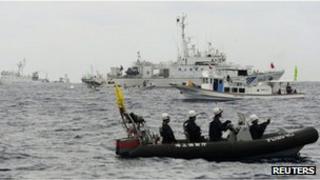 Japan has warned that China is engaging in "dangerous actions" and attempting to change the status quo in the East China Sea "by force".
The comments were made in Japan's annual defence white paper - the first since Prime Minister Shinzo Abe took office late last year.
Both China and Japan have stepped up maritime patrols around disputed islands in the region in recent months.
The paper also expressed concern over North Korea's missiles programme.
'Incompatible'
Maritime tensions between Japan and China increased last year after Japan nationalised three islands in a disputed grouping known as Senkaku in Japan and Diaoyu in China.
Japan has control of the islands and bought three of them from their private Japanese owner in 2012.
Since then, China has sent government ships to patrol in what Japan says are its territorial waters, leading to fears of a clash.
"China has attempted to change the status quo by force based on its own assertion, which is incompatible with the existing order of international law," the white paper said.
"Some of China's activities involve its intrusion into Japan's territorial waters, its violation of Japan's territorial airspace and even dangerous actions that could cause a contingency," the paper added.
Earlier this year, Japan said a Chinese naval frigate had locked fire-control radar onto a Japanese ship near the disputed islands - claims China denied.
Japan earlier this month also expressed serious concern over China's construction of a drilling rig near a disputed gas field in the East China Sea.
Mr Abe, who is viewed as a conservative, plans to update Japan's defence policy over the coming year.
He is also pushing for Japan's pacifist constitution to be revised in order to ease tight restrictions on the armed forces.
In January, Japan increased its military spending for the first time in over a decade.
The paper also said that North Korea's ballistic missile programme had "entered a new phase".
"In conjunction with its efforts to enhance its ballistic missile capability, the nuclear tests by North Korea pose a significant threat to Japan's security," the report said.