Thailand court says Italian journalist 'killed by army bullet'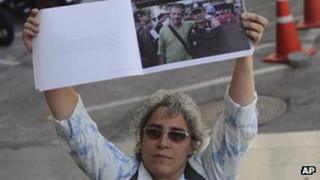 A Thai court has found that an Italian journalist shot during anti-government protests in 2010 was killed by a bullet used by soldiers.
The inquest into Fabio Polenghi's death also found that the bullet was fired from the direction of security forces sent to disperse protesters.
He was shot as he took photos of the operation against "red-shirt" supporters occupying parts of Bangkok.
More than 90 people were killed during the two-month-long protest.
'No solution'
A freelance photographer, Mr Polenghi was 48 years old when he was killed on 19 May 2010 as troops moved in to the protesters' fortified base to disperse them.
"During the inquest, experts testified that the victim died of a wound from a high velocity bullet like those used by security forces and there was no evidence of any other group in the area," a criminal court judge was quoted by AFP news agency as saying.
The judge added the shot which killed Mr Polenghi "came from the direction where security forces were working to regain control of the area".
The court, however, did not indentify any individual responsible for firing the shot.
Mr Polenghi's sister, Elisabetta, told reporters said the ruling was "positive but it is not the solution", saying she expected those responsible to be punished.
Shawn Crispin, a representative of the non-profit Committee to Protect Journalists, called the court's decision a "first step towards achieving justice".
Abhisit Vejjajiva was prime minister when tens of thousands of "red-shirt" protesters took to the streets of Bangkok in March 2010, demanding his government step down.
The protesters shut down key parts of the capital over the course of a lengthy stand-off that left protesters, soldiers and journalists dead.
Human rights groups have blamed both sides, but highlighted the army's use of live gunfire as the principle cause of death. They have also accused members of the protest movement of using armed force that led to the deaths of some soldiers.
Late last year, Mr Abhisit - who is now the leader of the opposition - was charged with giving an order allowing troops to use live ammunition on protesters. No military personnel have been prosecuted.
Many of the protesters supported ousted leader Thaksin Shinawatra, whose sister is now the prime minister.
The Thai government has set up a fund to compensate victims of the violence.