Afghan police pair 'kill seven colleagues' in Kandahar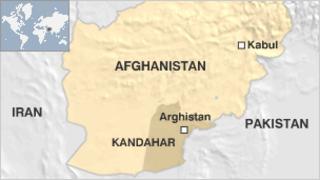 At least seven policemen have been killed in a gun attack in Afghanistan's southern province of Kandahar, officials say.
A police chief said two Afghan police officers, who had recently rejoined the force after defecting to the Taliban, opened fire on their colleagues.
The Taliban said that they had carried out the killings.
At least 14 Afghan police and soldiers have died in a string of attacks by insurgents since Monday.
'Stolen weapons'
Ahmad Jawed Faisal, spokesman for the governor of Kandahar province, said the two attackers had been invited by a commander to eat dinner at a checkpoint in the remote district of Arghistan, near the Pakistan border.
"Two men asked police to let them spend the night in their post. The police accepted and gave them food," Mr Faisal told the news agency AFP.
"After dinner, the men grabbed the guns of the policemen and shot dead seven police, wounded one and fled."
Afghan National Police chief in Kandahar, Abdul Raziq, told Reuters the officers were targeted while they were sleeping.
The gunmen escaped in a police jeep with several stolen weapons, according to reports.
At least nine other government soldiers were killed during separate attacks around the country on Monday and Tuesday - including five in the north-eastern province of Badakhshan and another two in Kandahar.
The Taliban announced a "spring offensive" in April, saying they would target foreign military bases and diplomatic areas.
Most international troops are scheduled to leave Afghanistan by the end of 2014.
Afghan forces are due to take responsibility for the security of the whole country in the next few months, for the first time since 1992.