German thief escapes Australian guards in Bangkok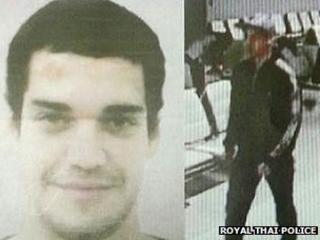 A jewel thief being extradited to Germany managed to escape his guards while in transit at Bangkok and fled the airport, Thai police have said.
Carlo Konstantin Kohl, 25, managed to escape from his two Australian escorts when their connecting flight to Germany was delayed because of bad weather.
Some Thai newspapers say that he escaped when his guards fell asleep.
But the firm that runs Australia's immigration security strenuously denied this was the case.
The Australian government has also been put on the defensive by the escape.
"Contrary to [Thai] media reports the escorts were not asleep - [that's) what I've been told," immigration department chief Martin Bowles told a parliamentary hearing after being accused by a senator of presiding over a "pretty big and embarrassing issue for Australia as a nation".
Electricity 'cut'
Police say that Mr Kohl - who had served three years in jail in Queensland for drugs, jewellery theft and other charges - escaped during an overnight stopover in Bangkok.
Correspondents say that however Mr Kohl escaped, it is an embarrassing security blunder.
He is wanted in his native Germany for skipping parole.
Some newspaper reports say that he escaped by disconnecting the electricity supply at an emergency exit in a restricted area of the airport, which enabled him to open it and slip out.
The Bangkok Post reported the Australian security officers who were accompanying Mr Kohl "had gone to sleep" in the transit room at Suvarnabhumi airport as he made his escape.
"When they awoke, they discovered he was no longer in their custody," Suvitchpol Imjairat, chief of the Immigration Bureau at the airport, told the paper.