Australia cardinal apologises over clergy child sex abuse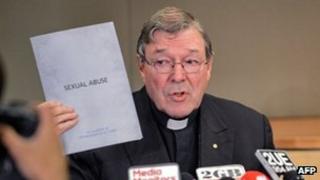 Australia's most senior Catholic official has apologised for decades of child sex abuse by priests.
During questioning at a state parliamentary inquiry, Cardinal George Pell said a culture of silence within the church was partly responsible.
The Catholic church in Victoria state confirmed more than 600 cases of child abuse by its clergy since the 1930s.
The hearings in Victoria are running alongside a national inquiry into abuse in state and religious institutions.
"I am fully apologetic and absolutely sorry," Cardinal Pell said during the final day of the hearings, which lasted for several hours.
He denied being personally involved in the cover-up of paedophile priests, but acknowledged it happened.
"I don't think many of any persons in the leadership of the Catholic church knew what a horrendous widespread mess we were sitting on," he said.
He has been accused of wilful blindness and what one parent called a sociopathic lack of empathy towards the victims and their families.
Maximum compensation
He added that church leaders have previously been reluctant to share information about accused priests.
But he said the number of child abuse cases have significantly dropped since the church started taking stronger action, like better background checks.
He acknowledged, however, that his predecessor as Melbourne archbishop, Frank Little - who died in 2008 - "did cover up" child sex abuse cases.
"Archbishop Little did cover up but he inherited a situation where there were no protocols, no procedures. And for some strange reason he never spoke to anybody about it," he said.
During the hearing, the cardinal also defended the maximum A$75,000 ($72,390, £47,833) compensation for victims, which is lower compared with the amount paid in the US.
"We are always ready to pay whatever the law of the land says about compensation," he said.
"Many of the victims aren't particularly interested in money. The more important thing is due process, justice and help with getting on with their lives."
Australian Prime Minister Julia Gillard last year announced a national inquiry to look into how organisations, including the church, dealt with child sex abuse cases.
Aside from this and hearings in Victoria, there is also an inquiry in New South Wales over allegations of abuse in Hunter Valley.