Four Vietnam activists get sentence reductions
23 May 2013

From the section

Asia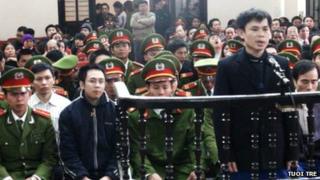 A Vietnamese court has reduced the prison sentences of four activists convicted in January of trying to overthrow the communist state.
Eight out of 14 defendants convicted had appealed against their sentences, four of whom were successful on Thursday, their lawyer has said.
Most of the jailed were Catholics, but they included bloggers and students.
Scores of activists have been jailed since the one-party state became less tolerant of free expression in 2009.
Those convicted in January were accused of having links with the Viet Tan, an exiled organisation based in the US which Vietnam's government considers a militant group.
Rights groups called the guilty verdicts "outrageous".
On Thursday well-known activist Le Van Son had his 13-year jail term cut to four years after reportedly expressing contrition for his crimes.
Three other activists had between six months and two-and-a-half years taken off their sentences.
"I am not happy because I asked the court to declare them innocent," the lawyer for the appellants told the AFP news agency.
Reports posted on dissident blogs suggested dozens of supporters had tried to attend the hearing to show support but were prevented by security services.
Correspondents say that at least 38 Vietnamese activists have been convicted of anti-state activities this year alone.
Vietnam has banned private media outlets and all newspapers and television channels are state-run.
Lawyers, bloggers and activists regularly allege that they have been subjected to arbitrary arrests and detentions.