Indonesia Freeport mine collapse death toll reaches 21
21 May 2013

From the section

Asia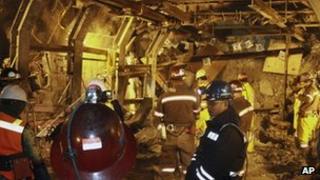 The death toll at a US-owned gold and copper mine in Indonesia has risen to 21 after another four bodies were recovered, the mine operator says.
Thirty-eight workers were buried when a tunnel at Freeport Grasberg's mine in Papua province collapsed on 14 May.
Rescuers are still searching for seven missing workers. Ten others were rescued after the collapse.
Indonesia's President Susilo Bambang Yudhoyono says he will order an investigation into mining safety.
Rescue efforts had been hampered by the unstable situation in the tunnel, where stones were continuing to fall from the roof, AFP news agency reported.
The company said that operations at the mine had been temporarily suspended due to safety considerations, and out of respect for the workers killed.
The Indonesian leader said he had asked two ministers to investigate the accident, but their visits had been denied because rescue efforts were ongoing.
"I will continue to order the ministers, as well as other concerned officials, to thoroughly discuss and investigate to find out what has to be done to ensure safety in the future," Mr Yudhoyono said.
"We will evaluate all mining companies in the country, not only Freeport," he added.
Richard Adkerson, president and chief executive of Freeport-McMoRan, arrived in Indonesia over the weekend to visit injured workers and families of victims.
He said he was "deeply saddened and disturbed" by the accident.
Freeport's Grasberg mine is one of the largest gold and copper mines in the world, and has an estimated 24,000 employees.
In 2011, workers staged a three-month protest asking for better pay, with miners only going back to work after negotiating a pay rise of almost 40%.