Kandahar bomb blast kills 10 Afghan civilians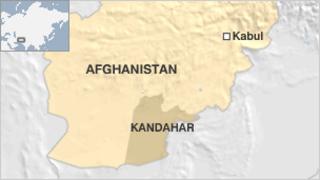 A roadside bomb in southern Afghanistan has killed at least 10 civilians, including women and children, police say.
The vehicle the victims were travelling in hit an improvised explosive device (IED) in Kandahar province.
About 12 other people were injured in the blast.
No group has so claimed responsibility for the attack - the latest since the Taliban launched its annual spring offensive in late April.
"The blast hit a pick-up truck in the Arghistan district," Kandahar provincial police chief Abdul Raziq told AFP news agency.
Four women and three children are among the dead, he added.
Last month, the Taliban said its spring offensive would be targeting foreign military bases and diplomatic areas.
Earlier this month five US soldiers died in a roadside bomb blast, also in Kandahar.
In a separate attack, also in this month, three British serviceman were killed by a roadside bomb in the southern province of Helmand.
Some 100,000 soldiers are still serving with the Nato-led International Security Assistance Force (Isaf) in Afghanistan, but they are due to be withdrawn by the end of 2014.