Bangladesh war crimes suspect AKM Yusuf seeks bail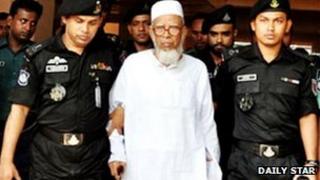 A leader of the opposition Jamaat-e-Islami party in Bangladesh is seeking bail after being arrested on Sunday for alleged war crimes, officials say.
AKM Yusuf was detained in Dhaka and charged with offences during the 1971 war of independence from Pakistan.
His arrest follows the sentencing to death last week of another Jamaat leader, Muhammad Kamaruzzaman, for wartime atrocities.
Defence lawyers say that Mr Yusuf is innocent and is being held illegally.
They say that he was arrested by police before formal arrest orders were issued.
The establishment by the government of a tribunal to prosecute war crimes suspects in Bangladesh is a divisive issue, with large demonstrations both for and against its rulings.
More than 100 people have been killed in protests and counter-protests since January, when the tribunal sentenced senior Jamaat leader Abul Kalam Azad to death in absentia.
Jamaat opposed Bangladeshi independence from Pakistan in 1971, but denies accusations that some of its leaders committed murder, rape and torture during the conflict.
Mr Yusuf is alleged to be the founder of the infamous Razakar Bahini, an auxiliary force set up to help the Pakistani army by rooting out local resistance.
The Razakars were notorious for their operations targeting Hindus as well as civilians suspected of being sympathetic towards Bengali nationalists.
He is facing 15 war crimes charges, which include genocide, killing, looting, arson and forcing members of minority faiths to convert to Islam.
His defence team argued that Mr Yusuf, 87, should be granted bail immediately because of his old age.
Prosecutors however opposed the bail application, arguing that Mr Yusuf had remained politically active despite his advancing years and should remain in jail to prevent him influencing trial proceedings.
A judge at the court said that a decision on the bail application would be made on Tuesday.
Four men have already been found guilty by the tribunal. Senior Jamaat leader Delwar Hossein Sayeedi was condemned to death in February and the party's assistant secretary-general Muhammad Kamaruzzaman received the same sentence on 9 May.
In February another party figure Abdul Kader Mullah was given a life sentence, while the previous month Abdul Kalam Azad, a former leader of the party's student wing, received a death sentence in absentia. He is thought to be in Pakistan.