Karzai says US could have nine Afghan bases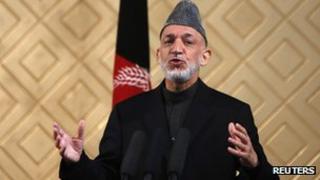 The Afghan government could allow the US to keep nine bases in the country after most Nato forces withdraw next year, President Hamid Karzai has said.
But Mr Karzai added that he had demanded security and economic guarantees from the US in return.
The US would not confirm "specifics" but said it did not seek permanent Afghan bases.
Details of the security pact have not been revealed before now, but both sides are keen to secure a deal soon.
Talks have gone on for months.
Reports suggest the US wants an agreement signed before a Nato summit expected in mid-2013.
Mr Karzai also said he hoped to have "a strong successor" in next year's elections, when he is due to stand down.
The Afghan leader made his remarks at a ceremony marking the 80th anniversary of Kabul University.
He said the US wanted "nine bases in Kabul, Bagram, Mazar, Jalalabad, Gardez, Kandahar, Helmand, Shindand and Herat".
"We think their presence beyond 2014 and our relationship with them are in the interest of Afghanistan," he said.
"But our condition is that the USA should accelerate its efforts to ensure peace in Afghanistan," Mr Karzai told an audience of university professors and students.
He said the US should also "co-operate seriously in strengthening the Afghan economy".
"If they agree to do so, we are ready to sign [the strategic] pact with them. When we are confident of this, we will certainly do it."
The US embassy in Kabul refused to confirm any details of the deal currently being worked out.
"We have not and will not comment about specifics currently being negotiated in this agreement," it told the BBC in an emailed statement.
"In general, as President Obama has made clear, we do not seek permanent military bases in Afghanistan. We envision that the BSA [Bilateral Strategic Agreement] will address access to and use of Afghan facilities by US forces."
It is not clear how many foreign troops will remain in Afghanistan after all Nato combat forces leave by the end of next year.
'Smart of Karzai'
President Karzai's remarks were welcomed on Afghan social media.
Bloggers and other users expressed relief that foreign troops were not abandoning the country. Some wrote that the situation "post-2014 sounded promising".
"Watching Karzai's remarks I feel relieved. He sounded like we are going to have our foreign friends beside us forever," said Ershad Hamid from Kabul.
Homaira from Herat said: "It seems everything is going to be okay after 2014, we are going to have US bases."
Mr Karzai's speech follows months of anti-US rhetoric.
There were tensions before the final handover of the Bagram detention centre. The president also stopped Afghan forces from calling in US air strikes and ordered US special forces out of Wardak - a strategic province adjacent to Kabul.
Hadi Khalid, military analyst and former deputy Afghan interior minister, believes President Karzai wants to use any opportunity to win Afghans' support for the security pact with the US.
"I think signing the agreement is coming to a close," he told the BBC. "Raising this issue at an academic place like Kabul University was very smart of Karzai."
The president's address was broadcast live on state-run television.
Mr Karzai also referred to Afghanistan's relations with its neighbours - mainly Pakistan. There have been renewed border clashes between the two countries' forces over the past few days.
The two countries are crucial US allies in the war against militants.
"The relations with Pakistan are becoming sensitive - we are calling for good relations," said Mr Karzai, calling for a future free of "violence and conspiracy".