Pakistan hopes for 'cleanest' elections in history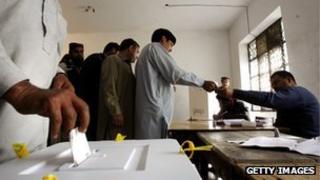 Pakistan's elections on 11 May will be the cleanest in the country's history, officials say, following the implementation of new measures to avoid a repeat of widespread rigging in previous votes.
They say that electoral rolls have been refreshed and a text messaging service has been initiated that provides voting information to individual voters on their mobile phones.
In previous elections there have been accusations that individual contestants and some state institutions rigged the vote by setting up ghost polling stations and creating some 37 million fake votes on the electoral rolls.
But despite hopes for a cleaner election, many wonder whether the vote will be fair, given violence in the run-up to it.
Secular parties have been largely prevented from campaigning by a wave of militant attacks which has seen more than 100 people killed in election-related violence.
Correspondents say it is also not clear what effect the bloodshed will have on turnout, and whether voters in some areas will be scared to go to polling stations.
Biometric identity
The National Database Registration Authority (Nadra) says electoral rolls have now been linked to its electronic identification data of citizens, creating a digital database that covers more than 96% of the country's population.
After 2001, data relating to voters was computerised, using biometrics and digital photos for facial identification.
"Each vote is linked to a Computerised National Identity card (CNIC), and each CNIC is linked to a biometric identity, so there's no way that I could poll your vote, or poll my own vote more than once," says information technology expert Tariq Malik, who heads Nadra.
Any attempt to stuff the ballot boxes with fake votes - as often happened in the past - would be easily discovered, he said.
"Each voter has a digitally verifiable photo on the voter list, and will affix his or her left thumb impression against his name before receiving the ballot," Mr Malik said.
"In the event of a complaint, this can be verified against the biometric data we have of that particular voter or of a whole lot of voters on a polling station."
Last year, Nadra cleaned up the voter lists by matching them with their own database of voters.
"We expunged some 37 million fake voters who either did not exist, or were registered more than once. At the same time, we included over 36 million eligible voters who were issued CNICs but were not on the voter lists," Mr Malik said.
Fake votes
Early this year, Nadra activated an SMS service to enable voters to find out which city, town or village they were registered in by simply sending their CNIC number to a Nadra host computer.
On Monday, the Election Commission activated another of Nadra's SMS software devices that enables voters to receive their serial number on the electoral rolls and the name of the polling station where they are to vote.
In the 1990s a pattern of systematic election rigging, locally termed as "scientific rigging" began to evolve, a development which was mostly blamed on the ISI intelligence service of the military.
The military authorities however have denied that they ever tried to influence or manipulate election results.
The polling of fake votes, multiple voting and selective overnight relocation of polling stations were the common methods used at that time to give some candidates an unfair advantage over others. But the fraud could not be proved because of an absence of easily-accessible data.
Mr Malik says that while no voter list can be absolutely flawless, there is greater hope this time that widespread electoral fraud will be eradicated.