Bakhtiyar Hamrayev: Tributes paid to Uzbek activist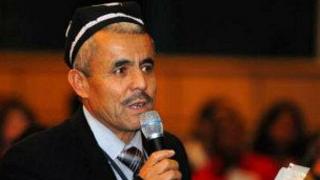 Tributes have been paid to one of Uzbekistan's leading human rights defenders, Bakhtiyar Hamrayev 59, who died of cancer on Saturday.
In a rare statement, the US embassy called him "an extraordinary voice" among Uzbek human rights activists.
Colleagues have described him as a tireless campaigner who identified numerous human rights abuses.
Hamrayev led the Jizzakh regional branch of the Human Rights Society of Uzbekistan.
Like many other independent organisations, it is not recognised by the authorities.
Bakhtiyar helped families to get information about imprisoned relatives amid accusations of torture in Uzbek jails.
He also played a prominent role in documenting child labour in Uzbek cotton fields.
Human Rights organisations have often accused the government of systematic abuses and intimidation of opposition figures, journalists and human rights defenders.
But the government routinely denies all these allegations.
A persistent thorn in the side of the authorities, supporters say that Mr Hamrayev faced continuous harassment.
He was repeatedly threatened, beaten up or put under house arrest.
The intimidation increased in May 2005 after Uzbek troops fired on a peaceful protest in the city of Andijan, killing hundreds.
Just after the rally, Mr Hamrayev was attacked by several people at his home who denounced him as an American spy and gave him 24 hours to leave the town.
Yet despite worsening harassment, including the imprisonment of his son on hooliganism charges, Mr Hamrayev continued his human rights work.
During the cotton harvesting season he could often be found in the fields documenting cases of child labour.
In 2009 he contributed to a BBC investigation, saying that he had observed children as young as 11 or 12 forced out of their classrooms to help to pick cotton in rural areas.
Shortly after giving his testimony he was again attacked.
The Uzbek authorities say that there is no child labour in the country.
Despite suffering from liver cancer for over a year, Mr Hamrayev carried on with a task he saw as vital.
After being nominated for the 2013 International Front Line Defenders Award, Mr Hamrayev described himself as a person who never lost heart.
"There will come a time [when] dreams of the people who are fighting for justice, for their people, for the future, for their country, will come true. This is my dream," he said in an interview. "Unfortunately, I am not healthy. But this does not mean that I have to stop working. I must fight."
Mr Hamrayev cited the former leaders of South Africa and the Czech Republic, Nelson Mandela and Vaclac Havel as his sources of inspiration.
The US embassy in Uzbekistan in an online statement praised his "outstanding contribution to the protection of people's rights, which inspired many people across the country".