Deadly blast at election rally in north-west Pakistan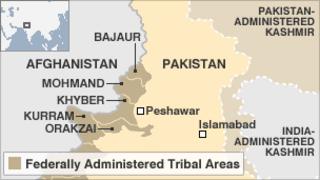 At least 15 people are reported to have died in an explosion at an election rally in north-west Pakistan.
The blast is believed to have happened near the stage at a rally of Jamaat Ulema Islam - Fazl (JUI-F), a religious party, in the tribal Kurram region.
Dozens of people were injured, according to local officials.
This is the latest in a string of attacks on parties and candidates since campaigning began last month for the general election on 11 May.
Many of the attacks, but not all, have been against secular parties.
A JUI-F candidate from another constituency in the same region, Maulana Ainuddin Shakir, who was also present at the meeting, said he did not believe the Taliban were involved in the attack.
"We have received no threats from Taliban, and we don't expect them to disrupt our election activity," Mr Shakir told the Pakistani Geo TV channel, adding that the attack could have been the result of a tribal feud.
The candidate whose rally was targeted, Munir Khan Orakzai, is considered close to President Zardari. Mr Orakzai was unhurt by the blast.
Mr Zardari's Pakistan People's Party (PPP) is one of those being targeted by the Taliban.
Mr Orakzai was previously part of the ruling alliance led by the PPP, which completed its term in March.
He contested the last elections in 2008 as an independent candidate, but is now standing on a JUI ticket.
Interim Prime Minister Hazar Khan Khoso condemned the attack. The authorities insist that they are taking measures to ensure that the poll will be free and fair and, they hope, peaceful.
Kurram is one of Pakistan's seven tribal regions close to the border with Afghanistan, dominated by militant groups linked to the Taliban or al-Qaeda.
It has frequently been the scene of sectarian violence between the country's Sunni Muslim majority and the Shia minority.