Pakistan election: Three voters' views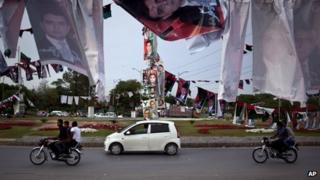 Pakistan has witnessed a recent surge in violence aimed at political parties and candidates campaigning in elections due on 11 May. But beyond the problems of security, what matters most to ordinary voters as they decide who will form their next government? The BBC's Shahzeb Jillani finds out in Karachi.
Abdul Hafiz, 47, shopkeeper
I have been making and selling picture frames in this market for nearly 25 years. But times have never been this tough. For us, rising prices are the biggest issue. The cost of our raw material is going up, but the customers insist on buying the finished product for the same old price. Our sales are falling and the business is suffering.
I am not going to go out and vote on election day. We are scared for our lives here as we get threats from political parties.
So, why bother? Political parties want our votes so they can get elected and enrich themselves through corrupt practices. No one cares about this country, or its people.
I have no faith in the election process. Politicians have failed to deliver during the last 65 years. And this will not change. On the contrary, what I see around me is the rich getting richer and poor becoming poorer.
Anzulna Khan, 21, trainee optometrist
I am doing this course because I want to help Pakistan, and our poor people who can't afford expensive eye treatment.
But unemployment is the biggest problem for the people of my generation. I'm not sure if I will get a job after I finish my training. I have lots of friends who have a good education and degrees, but there are no jobs for them in Pakistan.
Our previous government was too corrupt. A lot of MPs had fake colleges degrees.
I hope the new government will focus on creating jobs and improving security. I expect our new leaders to put an end to suicide bombings, and targeted killings - especially in Karachi.
Adiba Malik, 58, housewife
I have never voted before. But now, hundreds of people like me are planning to go out to vote because there's a sense that enough is enough, and we want change.
Things have become worse day by day. Lawlessness is the biggest problem. We don't go out of the house as often. We are afraid of going out at night. We don't let our children. The fear of getting attacked or robbed is always there.
But somehow the people of Karachi are coping. We are a brave people.
Karachi was a beautiful city when I was growing up here. It was the most enlightened and a safe place in Pakistan. We used to hang out till late at nights. But now I feel very sad when I see how it has changed for the worse.
Still, I am an optimist. And I think if we get people who are committed, dedicated and honest, the leadership can bring change. I am positive about it.
So, I think my vote will matter, even if it's a drop in the ocean - it will matter a little bit.