Profile: Najib Razak
28 July 2015

From the section

Asia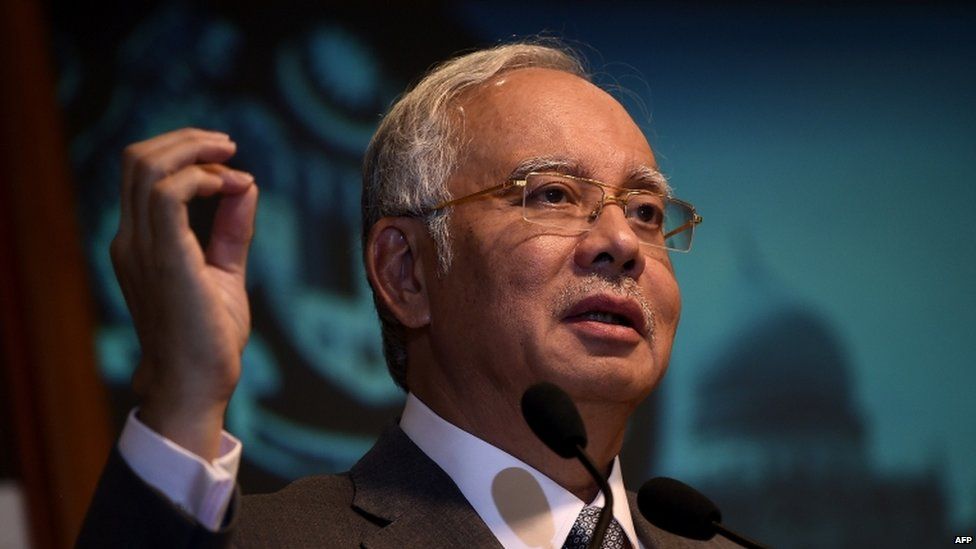 Malaysian Prime Minister Najib Razak is regarded by many as political blue blood.
He is the eldest son of Abdul Razak, Malaysia's second prime minister who was credited with playing a part in securing independence from Britain in 1957.
Mr Najib's uncle, Hussein Onn, was the country's third prime minister.
The 62-year-old led the ruling coalition in the May 2013 elections. His coalition won, securing a simple majority, but it was their worst election result in more than 50 years.
Political rise
After earning an industrial economics degree from the University of Nottingham in the UK, Mr Najib returned to Malaysia in 1974 and worked for state oil firm Petronas.
His father's sudden death two years later left a parliamentary seat vacant and Mr Najib entered politics.
At 23, he became the youngest MP in Malaysian history and quickly rose to prominence.
He held numerous cabinet posts - including energy, telecommunications, education, finance and defence - before becoming deputy prime minister to Abdullah Badawi in 2004.
Elections in 2008 saw the ruling Barisan National (National Front) coalition lose its two-thirds majority in parliament for the first time since Malaysia's independence.
Mr Abdullah stepped down in 2009, handing power to Mr Najib who became prime minister and leader of the main coalition party, United Malays National Organisation (Umno).
Mr Najib's elevation to the leadership coincided with rising demand for change from an increasingly vocal electorate.
Following a huge rally for electoral reform in the capital, Kuala Lumpur, in 2011, Mr Najib moved to reform tough laws on public gatherings and repealed the controversial Internal Security Act.
But in 2013 he reinstated detention without trial, and reforms to pro-Malay policies he promised when he assumed the leadership largely did not materialise.
Challenges and controversies
Although he has worked to improve the economy with limited reforms, Mr Najib's record has not been without controversy.
He has faced corruption allegations over the purchase of two French submarines in 2002 while he was defence minister. Mr Najib has denied any wrongdoing.
His former aide was also linked to a case involving the murder of a Mongolian national in 2006. The aide was acquitted in 2008.
In 2014, Malaysia was rocked by two aviation disasters - the disappearance of Malaysia Airlines MH370 in March of that year, and the shooting down of MH17 in Ukraine in July.
Mr Najib and his team of leaders came under fire for mismanaging the government's response to the first incident and providing inadequate and tardy information to families.
He learnt his lesson with a speedier response to the MH17 incident, and successfully negotiated with Ukrainian rebel leaders to secure the bodies of victims and the flight recorders.
Mr Najib now faces the most potentially damaging accusation in his political career with the ailing 1MDB state investment fund.
He set up the fund, whose full name is 1Malaysia Development Berhad, in 2009 with the promise of developing the economy. But the fund has since racked up huge debts and, most controversially, he stands accused of transferring nearly $700m (£450m) to his personal bank accounts.
He has denied this allegation saying he is a victim of "political sabotage", and has accused former prime minister Mahathir Mohamed, who remains influential in Malaysian politics and has called for Mr Najib's resignation, of orchestrating a smear campaign.
Mr Najib has refused to step down and in July 2015 he replaced his deputy who had criticised his handling of the affair.
In a recent Facebook post, Mr Najib declared: "I will stay focused on the work of nation building for the people."