Profile: Najib Razak
1 May 2013

From the section

Asia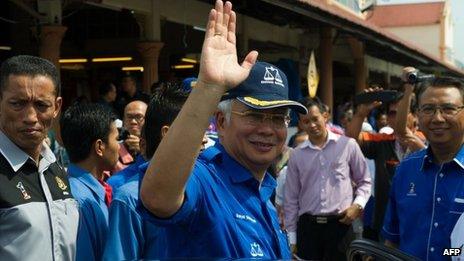 Malaysian Prime Minister Najib Razak is regarded by many as political blue blood.
He is the eldest son of Abdul Razak, Malaysia's second prime minister, credited with playing a part in securing independence from Britain in 1957.
Mr Najib's uncle, Hussein Onn, was the country's third prime minister.
The 59-year-old now faces the task of defeating an opposition set to pose its strongest challenge yet in general elections on 5 May.
Political rise
After earning an industrial economics degree from the University of Nottingham in the UK, Mr Najib returned to Malaysia in 1974 and worked for state oil firm Petronas.
His father's sudden death two years later left a parliamentary seat vacant and saw Mr Najib enter politics.
At 23, he became the youngest MP in Malaysian history and quickly rose to prominence.
He held numerous cabinet posts - including energy, telecommunications, education, finance and defence - before becoming deputy prime minister to Abdullah Badawi in 2004.
Elections in 2008 saw the worst result for the ruling Barisan National (National Front) coalition since independence - it lost its two-thirds majority in parliament for the first time.
Mr Abdullah stepped down in 2009, handing power to Mr Najib who became prime minister and leader of the main coalition party, United Malays National Organisation (Umno).
His rise to power has not been without controversy. Corruption allegations persist over the purchase of two French submarines in 2002 while Mr Najib was defence minister. He denies any wrong-doing and an investigation in France is ongoing.
His former aide was also linked to a case involving the murder of a Mongolian national in 2006. The aide was acquitted in 2008.
His elevation to the leadership also coincided with rising demand for change from an increasingly vocal electorate.
Following a huge rally for electoral reform in the capital, Kuala Lumpur, in 2011, Mr Najib moved to reform tough laws on public gatherings.
He also repealed the controversial Internal Security Act, replaced by new laws in 2012. Critics however says the new laws remain repressive and still allow for abuses.
Reforms to pro-Malay policies he promised when he assumed the leadership, meanwhile, largely did not to materialise.
'Open and transparent'
Now Mr Najib must lead the BN into an election, and he is doing so on a platform of limited reforms.
These include moving to beef up foreign investment, improving public welfare with cash hand-outs for civil servants and the poor, as well as pushing his 1Malaysia programme prioritising national unity.
"While some may have voiced concerns, ultimately the party has delivered a bold and wide-ranging set of reforms, which have expanded civil liberties and made this government the most open and transparent in its history," Mr Najib said told Agence-France Presse news agency ahead of the polls.
Mr Najib says he is also confident that Malaysia's economic performance while he was prime minister will help secure a win.
"What my colleagues and I have done for Malaysian workers over the past four years are only a reflection of what is to come and implemented in the next five years," local media quoted him as saying on 1 May.
"Improved welfare and well-being for more than 13 million Malaysian workers will be our priority to propel the nation forward."