Taliban captives 'well looked after' in Afghanistan's Logar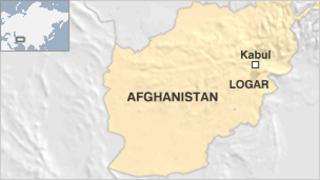 A group of foreigners abducted on Monday by militants in eastern Afghanistan are being "well looked after", officials and the Taliban say.
Up to 11 people, thought to include eight Turks, two Russians and an Afghan were taken in Logar province after their helicopter landed in bad weather.
Tribal elders who saw the captives said that they were being fed and looked after, local officials told the BBC.
The Taliban also told the BBC the captives were in good condition.
Taliban spokesman Zabihullah Mujahid said that the group were very tired and that "we could not talk to them a lot".
"If they need any doctors for check up or other health related issues, we have good doctors and medical workers," he said.
He added that Taliban leaders had yet to make a decision about their fate and denied reports that local officials or tribal elders had made contact in an effort to negotiate their release.
But officials in Logar earlier told the BBC that elders had seen the hostages. They added that the Taliban had made no demands so far, adding that they were concerned that the insurgents' might want to take the group across the border into Pakistan.
Forced landing
The company responsible for the missing helicopter, Khorasan, said the aircraft was forced down in bad weather on Sunday evening while flying to Kabul from Khost, which is to the south-east of the capital.
Azra, the restive district where the helicopter made the forced landing, is close to the Pakistani border and local officials say that while there are some Afghan government forces there, the Taliban and other insurgents have a strong presence.
It said there were 10 people on board: one was an Afghan, two were Russian pilots, and the other seven were Turkish construction workers.
But Turkey's foreign ministry later said that eight Turks were on board the aircraft.
The BBC's David Loyn in Kabul reports that on any day there are an average of 100 civilian helicopter flights across Afghanistan.
They are a vital link for remote bases, carrying workers and supplies and are mostly contracted from Russian companies, our correspondent adds.
Turkey has around 1,800 soldiers serving with Nato forces in Afghanistan, but their mission is confined to patrols and Turkey has long had a close relationship with Kabul.
Several Turkish engineers have been kidnapped in Afghanistan in recent years, with some held for up to two years.
Numerous Western, Pakistani and Afghan hostages are being held in Afghanistan including US Army Sergeant Bowe Bergdahl, 25, who has been a prisoner for nearly four years.