South Korea investigates letter threat to minister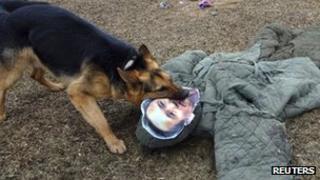 Investigations are under way in South Korea to establish who sent a letter threat to the defence minister.
Kim Kwan-jin received the parcel, which contained white powder now identified as flour, on Tuesday, officials said.
The move comes amid high regional tensions after North Korea's third nuclear test in February.
Meanwhile, China's top general said that a fourth nuclear test by Pyongyang was "very likely".
South Korean ministry spokesman Kim Min-seok said: "The powder was identified as wheat flour available in supermarkets."
Efforts are continuing to find out who sent the parcel, which the Defence Ministry branded an "attempted act of terror".
The letter accused Mr Kim of "war-mongering" and "infringing the highest dignity of North Korea", and said he would be punished for it.
Security around the building and the minister have been stepped up.
The accompanying letter reportedly mirrored hundreds of threatening leaflets scattered outside the Defence Ministry a few days ago, the BBC's Lucy Williamson in Seoul reports.
Mr Kim, who issued stern warnings to North Korea during the recent tensions, has already been a target for Pyongyang's propaganda machine, our correspondent adds.
One video released by the North showed army dogs being trained to attack mannequins with pictures of Mr Kim's face.
Nuclear test warning
Meanwhile, Gen Fang Fenghui, chief of general staff of the Chinese People's Liberation Army, warned that North Korea "could conduct a fourth nuclear test".
He did not give any further details on when such a test could occur.
Gen Fang was speaking at a news conference after a meeting with the chairman of the US Joint Chiefs of Staff, General Martin Dempsey.
The talks were the highest-level military meetings between the US and China in nearly two years.
Gen Fang said China was "firmly opposed" to the nuclear tests conducted by North Korea.
He also urged "all sides to work actively to work on the North Koreans to stop nuclear tests and stop producing nuclear weapons".
North Korea's latest test on 12 February prompted tighter sanctions from the UN. Pyongyang has also been angered by joint military manoeuvres by the US and South Korea, which it says are preparations for war.
In recent weeks, the North has threatened to attack South Korea, Japan and US bases in the region.
It has also vowed to restart a mothballed nuclear reactor, and blocked access to Kaesong Industrial Complex, an industrial park run jointly with South Korea, prompting a flurry of diplomatic activity.
There was speculation that North Korea would use the anniversary of Kim Il-sung's birth on 15 April for a missile launch, after reports that it had moved at least two Musudan ballistic missiles to its east coast.
But the celebration was relatively quiet and no missile test has taken place.
Reports earlier this month of increased activity at North Korea's nuclear testing site also prompted fears that preparations for a fourth nuclear test could be under way.