China media: Xi Jinping 'taxi ride'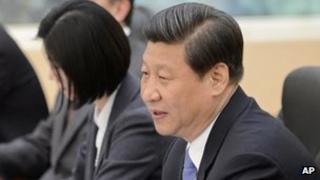 Hong Kong media are baffled over a "fake news" story on the Chinese president taking a taxi ride and question whether it is a pretext for stricter media controls.
Beijing-backed Hong Kong newspaper Ta Kung Pao apologised on Thursday for publishing a "fake news" story about Guo Lixin, a Beijing taxi driver who claims he picked up Communist Party leader Xi Jinping in his cab on 1 March.
The report says the driver recognised Mr Xi, who was travelling "incognito", when his complaints about chronic air pollution in the capital were met with Mr Xi's pledges to "rectify the problem".
Global Times says many media republished the story on Thursday and were "taken for ride".
It notes that one Xinhua News Agency microblog posted a message around 14:00 local time (07:00GMT) that traffic authorities had confirmed the story. This was followed by an immediate denial by the Beijing Municipal Commission of Transport on its official Sina Weibo account.
In another dramatic twist, at around 17:30, a different Xinhua News Agency microblog issued a terse statement calling the news "fake".
Ta Kung Pao then swiftly apologised and deleted the page-six article on Thursday.
"'Ta Kung Pao is not a private newspaper, but a party mouthpiece, under strict regulation by the General Administration of Press and Publication. Routine news already has a lot of censorship screening hurdles. So how can a full-page report on General-secretary Xi be published without verification and top-level approval from many parties?" Apple Daily columnist Poon Siu-to asks.
South China Morning Post also questions whether the report had received government approval. Sources close to Ta Kung Pao told the newspaper that the interview with Mr Guo was done last week after a request by "newspaper leaders".
Prof Zhang Ming, a political scientist at Beijing's Renmin University, suspects government spin-doctoring to boost Mr Xi's popularity.
"The impact of the stunt was not as good as officials wanted it to be," he told the South China Morning Post.
Hoax interview
Ming Pao is also baffled and says it is unusual for an authoritative party mouthpiece like Ta Kung Pao to print a hoax interview, especially as the interview was conducted by two top Beijing journalists, one of whom once worked for Xinhua.
It questions whether the incident is linked with China's media regulator issuing a directive earlier this week banning journalists from quoting foreign media or websites without prior authorisation.
"If this false news is really a 'double bluff', it has done a great injustice to this century-old newspaper," Ming Pao concludes.
In microblog comments removed by Sina Weibo, China's Twitter-like service, Luo Changping, deputy editor of Beijing business magazine Caijing, also suspects that Xinhua's rebuttal of the story may be used as a pretext for tougher media controls.
In other news, the springtime outbreak and northward spread of H7N9 infections in humans has been linked to the migration of wild waterfowl, He Hongxuan from the Institute of Zoology at state-run think-tank Chinese Academy of Sciences tells China Daily.
People's Daily says the central government has slashed the annual budget for the "three public expenditures" - official receptions, overseas tours and vehicle use - amid an ongoing battle against extravagance among officials.
Meanwhile, two more activists were detained in Beijing for a street campaign to call on officials to disclose assets, bringing the total number of such arrests to eight, South China Morning Post reports.
China Economic Times accuses authorities of hiking up prices at 12 tourism spots ahead of the May Day holiday week for "economic benefits" rather than concern for environmental protection. The price rises have triggered a public backlash on the internet.
The government of Luohe, Henan province, has bought 5 million tonnes of fresh water from a reservoir to replenish its source of tap water from the Lihe River after residents complained that the river's water was as dark as "soy sauce", Global Times quotes Dahe Daily as saying.
In Hong Kong, Global Stevedoring Service, a dock contractor, says it will shut down business after 30 June because it cannot meet the pay rise demands of its dockers who are continuing a 22-day-long strike at the Kwai Tsing Container Terminals, Ming Pao reports.
Apple Daily voices support for the striking dockers and activists who will hold another protest tonight outside Cheung Kong Centre, headquarters of tycoon Li Ka-shing, who owns the strike-hit port operator Hongkong International Terminals (HIT).
Dockers have dismissed HIT's call for them to understand the challenges faced by Hong Kong's shipping industry.
BBC Monitoring reports and analyses news from TV, radio, web and print media around the world. For more reports from BBC Monitoring, click here. You can follow BBC Monitoring on Twitter and Facebook.