Australian Olympic swimmers fined for misconduct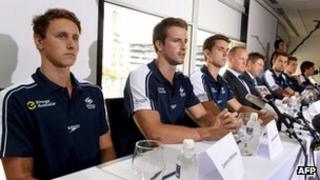 Members of Australia's Olympic swimming team have been fined and issued deferred suspensions for taking banned medication and misbehaviour.
Swimming Australia said the six male athletes "failed to demonstrate the level of conduct required" of them.
Five of the six men in February said they took the sleeping medication Stilnox during a "bonding" session before the London Olympics last year.
All six of them admitted to engaging in disruptive behaviour.
"The panel found that the six members of the men's 4x100m freestyle relay team in London failed to demonstrate the level of conduct required of members of the team," Swimming Australia said in a statement.
The failure was in connection to "inappropriate distribution and or use" of Stilnox, participation in a disruptive bonding session and general misbehaviour, it said.
"As a result... six athletes will be required to make payments to Swimming Australia and will receive deferred suspensions for breaches of their behavioural obligations," it added.
The panel has presented its report to the Australian Olympic Committee "for further consideration". It did not specify the amount of the fines or the length of the deferred suspensions.
The Integrity Panel also investigated allegations of drunkenness and bullying of athletes and officials, but did not find any evidence that required sanctions.
The athletes' admission followed a report that assessed Australia's poor swimming performance at the London 2012 Games which pointed to a "toxic" team culture.
Stilnox, used to treat insomnia, is not considered a performance enhancer and is not a banned substance, but the Australian Olympic Committee (AOC) put it on the prohibited list ahead of the Games.
The relay team, nicknamed Weapons of Mass Destruction before the Olympics, came in fourth in the event, in which they had been expected to deliver a medal.
Australia's swimmers won just one gold medal at London 2012, far short of previous medal hauls at other recent Olympics.