China boat 'runs aground' Philippine Unesco coral reef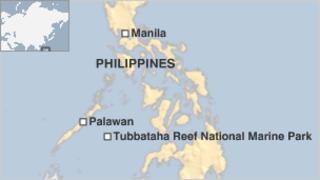 A suspected Chinese fishing boat has run aground on a protected coral reef in the Sulu sea, Philippine officials say.
The 12-man vessel ran aground Tubbataha Reef, a Unesco World Heritage site, late on Monday.
The men will be taken into custody and questioned, authorities say.
The US is facing a possible fine of more than $2m (£1.3m), after a US minesweeper damaged corals in the same reef in January.
The Philippines and China have territorial disputes in the South China Sea, and engaged in a lengthy stand-off over the Scarborough shoal last year.
However, the Tubbataha reef lies within the Philippine's territory, and is not considered a disputed area.
"This is a small fishing boat, but we are wondering how they strayed into Tubbataha," coastguard spokesman Lieutenant Commander Arman Balilo told AFP news agency.
"Apart from illegal entry, we are investigating them for possible poaching as well," he added.
In a statement, the Tubbataha Management Office said the fishermen would face charges for unauthorised entry, damage to the reef, disturbing resources and poaching.
The USS Guardian struck the reef south-east of Palawan island on 17 January. The ship was dismantled to minimise damage to the reef and the US has apologised for the accident.
Four navy officers on the minesweeper were also relieved of their duties.
According to Unesco, the Tubbataha Reef Marine Park is "home to a great diversity of marine life. Whales, dolphins, sharks, turtles and Napoleon wrasse are amongst the key species found [there]".